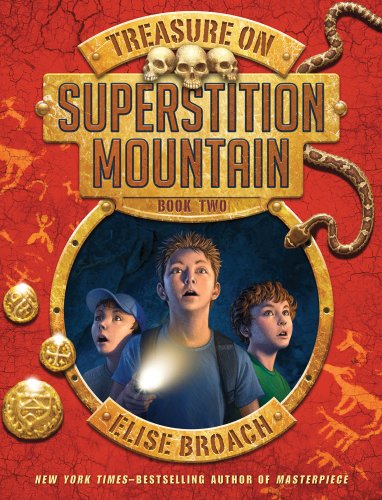 Publisher's Note:
Even though Henry Barker and his two brothers learned firsthand that the urban legend about danger on nearby Superstition Mountain wasn't just a myth, this doesn't stop them from planning their return. Along with their friend Delilah, the Barker brothers soon find themselves entangled in more danger and mystery as they uncover a real treasure, but the discovery comes at a very big price—they barely survive an avalanche. The question remains—is someone after them, or is the mountain seeking revenge?
This book was sent to Compass Book Ratings for review by Henry Holt & Company
Treasure on Superstition Mountain
by Elise Broach
Overall Review:
Who could resist a story of a lost gold mine, a secret map, mysterious messages, a ghost town, and sinister characters set in contemporary times? Elise Broach has included all these elements and more making TREASURE ON SUPERSTITION MOUNTAIN (Book 2 in the Superstition Mountain series) hard to resist.
Besides all the exciting adventures right up to the last page, the book is brimming with likeable characters. Simon, 11, wants to be in charge and give orders; Henry, 10, is smart, bookish, and more than a little superstitious; Jack, 6, is loud, impatient, and bold. Delilah adds a female touch and can hold her own alongside the three brothers. They are delightfully different from one another and come across as real young people. While some of the characters are fictional, others are actual people taken from the history of the Lost Dutchman's Mine. It makes an interesting mix.
Mrs. Broach builds a smooth bridge between the first two books in the series so that a reader starting with the second book won't feel lost. The novel includes a historical note about the Lost Dutchman's Mine at the end. There is also a map that keeps the reader oriented as the plot progresses. Young readers will love the fast-paced tempo as they encounter rock slides, rattlesnakes, and villains as everyone searches for the gold.
Content Analysis:
Profanity/Language: None
Violence/Gore: Characters are caught in a rockslide, encounter a rattlesnake, and receive threatening messages.
Sex/Nudity: None
Mature Subject Matter:
None
Alcohol / Drug Use:
None
Reviewed By Marilyn