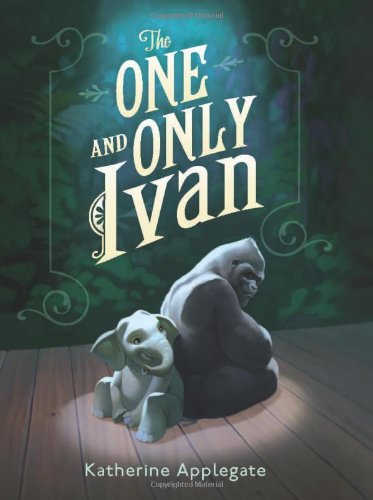 Publisher's Note:
Ivan is an easygoing gorilla. Living at the Exit 8 Big Top Mall and Video Arcade, he has grown accustomed to humans watching him through the glass walls of his domain. He rarely misses his life in the jungle. In fact, he hardly ever thinks about it at all.
Instead, Ivan thinks about TV shows he's seen and about his friends Stella, an elderly elephant, and Bob, a stray dog. But mostly Ivan thinks about art and how to capture the taste of a mango or the sound of leaves with color and a well-placed line.
Then he meets Ruby, a baby elephant taken from her family, and she makes Ivan see their home—and his own art—through new eyes. When Ruby arrives, change comes with her, and it's up to Ivan to make it a change for the better.
Katherine Applegate blends humor and poignancy to create Ivan's unforgettable first-person narration in a story of friendship, art, and hope.
The One and Only Ivan
by Katherine Applegate
Overall Review:
THE ONE AND ONLY IVAN by Katherine Applegate is the 2013 Newbery Medal winner.
Many times a book built on animals as the main characters will be aimed at very young children and that will be the extent of the audience. However, in THE ONE AND ONLY IVAN Katherine Applegate has created a gentle and heart-warming story that appeals not only to older children but also adults.
The basic plot revolves around Ivan, Stella, and Bob with a few humans, i.e. Mack, Julie, and her father, added to the mix. Ivan, a large silverback gorilla, chooses to remember nothing about being born in the wild, loves to draw, and is content with his life. Stella, the female elephant, remembers everything about her wild beginnings and performs her routines without complaint even though she is injured. Bob is a stray dog who sleeps in Ivan's pen. They and the humans are all connected by the circus-themed mall located off of the I-95. After performing together for years, the wild-born animals have accepted their lives; but when a small elephant named Ruby comes to the mall, things begin to change. Ivan places himself square in the middle of these changes when he promises to protect Ruby.
Ms. Applegate's style invites the reader to watch and listen as Ivan shares with you everything from his love of painting, his quiet philosophical nature, his understated humor, to his frustrations and triumphs. The small paragraphs consist of short precise sentences which move the story quickly along making it a book children can handle in spite of its length. These short paragraphs also help the reader stay focused as the story develops. Although tragic topics are covered, this book succeeds in celebrating what is good in both animals and human beings.
There is a short glossary in the beginning, an author's note about basing this story on an actual gorilla, and a brief summary of Ms. Applegate's successes. To this success list should be added the recent announcement that THE ONE AND ONLY IVAN has been awarded the 2013 Newberry Award!
Content Analysis:
Profanity/Language: None
Violence/Gore: A character has a serious injury resulting in death; two characters remember the violent deaths of parents and family with no description of blood or gore.
Sex/Nudity: None
Mature Subject Matter:
Death of Family, Crime and Illegal Activities, specifically, black market trade of endangered animal body parts
Alcohol / Drug Use:
None
Reviewed By Marilyn