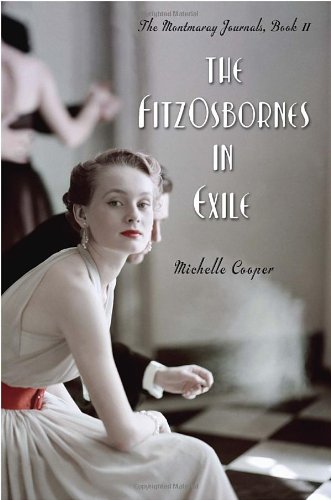 Publisher's Note:
Michelle Cooper combines the drama of pre-War Europe with the romance of debutante balls and gives us another compelling historical page turner.

Sophia FitzOsborne and the royal family of Montmaray escaped their remote island home when the Germans attacked, and now find themselves in the lap of luxury. Sophie's journal fills us in on the social whirl of London's 1937 season, but even a princess in lovely new gowns finds it hard to fit in. Is there no other debutante who reads?!

And while the balls and house parties go on, newspaper headlines scream of war in Spain and threats from Germany. No one wants a second world war. Especially not the Montmaravians—with all Europe under attack, who will care about the fate of their tiny island kingdom?

Will the FitzOsbornes ever be able to go home again? Could Montmaray be lost forever?
This book was sent to Compass Book Ratings for review by Random House Children's Books
The FitzOsbornes in Exile
by Michelle Cooper
Overall Review:
The FitzOsbornes in Exile by Michelle Cooper is Book II in the Montmaray Journals. Written as the journal of Princess Sophia of the fictional country/kingdom of Montmaray, the book literally picks up the day after Book 1, A Brief History of Montmaray. It is essential that Book 1 be read first because no text is devoted to back story and a new reader would be hopelessly lost.
The voice of Sophia is absolutely charming and makes it impossible not to adore Cooper's characters and writing. Being historical fiction, there are many historical people sprinkled among the fictional characters. The pacing of this book is slower than Book 1; quite a bit of text is devoted to describing debutante events, clothes, dresses, and society in pre-World War II England and the plot arch is subtle with an understated climax. These qualities may not appeal to all readers, but if one loves historical fiction and clever dialogue, they will find much to like in The FitzOsbornes in Exile.
Content Analysis:
Profanity/Language: 8 religious exclamations; 7 mild obscenities.
Violence/Gore: General references to violent events from first book in series; report of destruction of a town by bombing; a character is shot, but suffers no permanent injury; a character has some imaginings that mention blood; report of a death and speculation on how it came about; report of an individual being attacked and hurt; general references to military actions by Germans and political parties; a character threatens another character with a gun and there is a scuffle.
Sex/Nudity: A few separate discussions, innuendo, and references to a male character who prefers males to females and his falling in love with another male (who is also a relative); several sexual references including reference to male body parts, how to prevent pregnancy, periods, "Facts of Life", frigidity; discussion about Oscar Wilde's homosexuality while discussing another character's sexual orientation; implied affair; a character kisses another character.
Mature Subject Matter:
War, Homosexuality, Refugees, Persecution of ethnic groups
Alcohol / Drug Use:
General smoking and drinking in society; a 14 year old smokes cigarettes; report of a college student who drinks too much.
Reviewed By Cindy