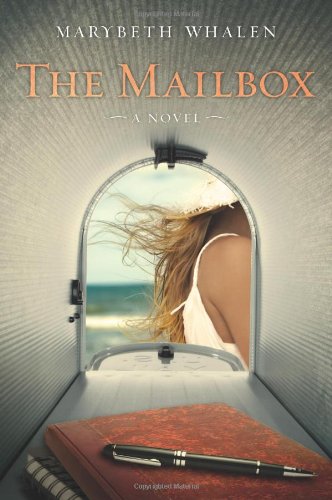 Publisher's Note:
Centered on a real landmark on the coast of North Carolina, The Mailbox blends intriguing folklore and true faith with raw contemporary issues that affect every woman.
When Lindsey Adams first visits the Kindred Spirit mailbox at Sunset Beach, she has no idea that twenty years later she will still be visiting the mailbox—still pouring out her heart in letters that summarize the best and worst parts of her life.
Returning to Sunset for her first vacation since her husband left her, Lindsey struggles to put her sorrow into words. Memories surface of her first love, Campbell—and the rejection that followed. When Campbell reappears in her life, Lindsey must decide whether to trust in love again or guard herself from greater pain. The Mailbox is a rich novel about loss, hope, and the beauty of second chances.
The Mailbox
by Marybeth Whalen
Overall Review:
Marybeth Whalen's debut novel, The Mailbox, invites readers to experience her love of the ocean and in particular, Sunset Beach, North Carolina. Those having visited the coast will nod sagely and those unfamiliar will contemplate a new vacation destination.
The language of this story is simple, yet the situations of the characters are complex. The descriptions of both people and places are well done and really convey great depth of feeling. One nice aspect of this novel is Whalen does not solve all of the problems by the end of the book. Although the characters' lives are not perfectly resolved, the ending is quite satisfactory and conveys a positive message to readers.
The book itself is a quick read with a pacing designed to hold interest, but not skimp on details. An added bonus to stories published by David C. Cook is the author interview. This adds insights to the story and often answers those burning questions the story creates. Get cozy and enjoy your trip to Sunset Beach, North Carolina.
Content Analysis:
Profanity/Language: None
Violence/Gore: None
Sex/Nudity: Non-married characters hug, kiss and hold hands; character reflects on seeing spouse naked, no details; non-married and married characters recalls sex, no details; character refers to her breasts, not sexual; character questions another's sexual orientation.
Mature Subject Matter:
Divorce, adultery, eating disorders, death of parent.
Alcohol / Drug Use:
Character wonders if teen is using drugs; teen character became drunk in the past; character recalls drinking beer at a party.
Reviewed By Susan