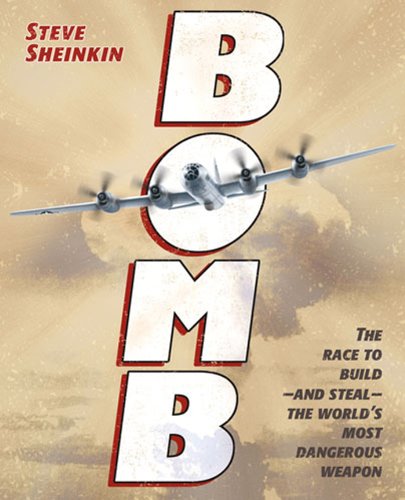 Publisher's Note:
In December of 1938, a chemist in a German laboratory made a shocking discovery: When placed next to radioactive material, a Uranium atom split in two. That simple discovery launched a scientific race that spanned 3 continents. In Great Britain and the United States, Soviet spies worked their way into the scientific community; in Norway, a commando force slipped behind enemy lines to attack German heavy-water manufacturing; and deep in the desert, one brilliant group of scientists was hidden away at a remote site at Los Alamos. This is the story of the plotting, the risk-taking, the deceit, and genius that created the world's most formidable weapon. This is the story of the atomic bomb.
Bomb is a 2012 National Book Awards finalist for Young People's Literature.
Bomb is a 2012 Washington Post Best Kids Books of the Year title.
Bomb is a 2013 Newbery Honor book.
Bomb: The Race to Build--and Steal--the World's Most Dangerous Weapon
by Steve Sheinkin
Overall Review:
Bomb: The Race to Build--and Steal--the World's Most Dangerous Weapon by Steve Sheinkin is a 2013 Newbery Honor Book for a good reason. Sheinkin masterfully weaves together the different historical threads surrounding the development of the atomic bomb into a seamless narrative; a splash of physics is even incorporated into the book. The voice and detail are spot-on for the targeted audience and included are personal details that bring the individuals to life. The sheer number of individuals, many with foreign names, is a challenge to keep straight and organized, but it is managed. The historical photographs included with text enrich and the short chapters maintain the pacing. As all good non-fiction does, Sheinkin wraps up Bomb by showing how the issues are relevant to the reader today. Highly recommended middle-grade non-fiction which even an older reader can appreciate!
Content Analysis:
Profanity/Language: 7 religious exclamations; 8 mild obscenities; 2 derogatory names.
Violence/Gore: Report of boys hazing another boy at a summer camp; general reports on the events of World War II (bombings, battles and such); 2nd hand report of Pearl Harbor with brief mention of body parts and blood; a man is purposefully thrown overboard and presumed drowned; an accidental shooting of an individual's foot; report of a glider crash with injuries, death, capture, executions; report of a beating (no details); report of an individual digging metal out of leg with a pocket knife; a person contemplated suicide; one chapter quotes first-person accounts of the aftermath of bombing of Hiroshima with details about devastation and injuries, with some descriptive details.
Sex/Nudity: None
Mature Subject Matter:
War, Espionage, Treason, Nuclear Arms Race, Death, Ethics
Alcohol / Drug Use:
General drinking and smoking by adults. An individual is a chain smoker. Churchill smokes cigars.
Reviewed By Cindy