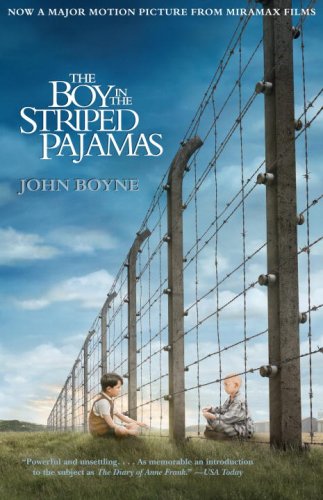 Publisher's Note:
Berlin 1942
When Bruno returns home from school one day, he discovers that his belongings are being packed in crates. His father has received a promotion and the family must move from their home to a new house far far away, where there is no one to play with and nothing to do. A tall fence running alongside stretches as far as the eye can see and cuts him off from the strange people he can see in the distance.

But Bruno longs to be an explorer and decides that there must be more to this desolate new place than meets the eye. While exploring his new environment, he meets another boy whose life and circumstances are very different to his own, and their meeting results in a friendship that has devastating consequences.
This book was sent to Compass Book Ratings for review by Random House
The Boy in the Striped Pajamas
by John Boyne
Overall Review:
Having heard a lot of great reviews for The Boy in the Striped Pajamas, I was excited to get my hands on a copy to read and review. While there were things about the story that I did appreciate, particularly the chance to see such a terrible piece of history through the eyes of a young boy, this book and I just didn't quite "click." I was very frustrated by the very blatant historical and cultural anachronisms throughout the book, and also felt throughout the story that the characters of Bruno and his older sister Gretel were both extremely unrealistic. Although Bruno's innocence made sense early in the story, I found it hard to believe—having known a lot of nine-year-olds myself—that he would have remained so completely ignorant after a year of living by the Auschwitz concentration camp and the experiences he had there. Although I appreciated the premise of Boyne's novel and had high hopes for it, I felt consistently let down by the execution of the story, including the fairly emotionally manipulative ending. Ultimately, I came away from The Boy in the Striped Pajamas feeling like it had an interesting concept, but that similar ideas had been carried out with much more finesse by other authors.
That said, not all books resonate with all readers, and I have many close friends who loved this one! I would, however, exercise caution in giving it to young children, as the ending is rather grim.
Content Analysis:
Profanity/Language: None
Violence/Gore: Throughout the book, there are very subtle implications that violent acts might be happening, but they're never alluded to directly (even as an adult, I had a lot of difficulty figuring out what some of the references were trying to convey). In one scene, a group of people are led into a gas chamber, which teens and adults who are familiar with the Holocaust will immediately recognize. There are also a few references to people disappearing, and to the sounds of gunshots, which allude to other deaths. All of this is handled very subtly.
Sex/Nudity: None
Mature Subject Matter:
The Holocaust, Nazi brutality towards Jewish prisoners
Alcohol / Drug Use:
Adults drink alcohol; one adult drinks copious amounts of "medicinal sherry" and there is an implication that she may be an alcoholic.
Reviewed By CindyB