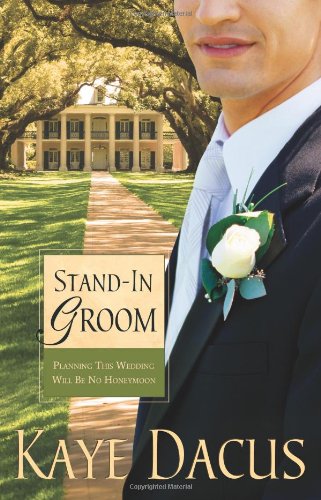 Publisher's Note:
Get ready to attend the quirkiest wedding ever in this delightful romance by Kaye Dacus, a new voice in women's contemporary fiction. When wedding planner Anne Hawthorne first meets George Laurence, she thinks she's found the man of her dreams. But when she discovers he's a client, she knows planning his wedding will be no honeymoon. Can Anne remain professional while falling for the groom? Or will she risk her heart, her values, and her career in the midst of planning the wedding of the century?
Stand-In Groom
by Kaye Dacus
Overall Review:
Stand-In Groom takes place in Louisiana and is part of The Brides of Bonneterre series. The author, Kaye Dacus, does a nice job of including many cultural aspects of the area. She also maintains a steady pacing. The story does not feel rushed and yet there is little that does not contribute to its development.
The characters in the story were enjoyable and believable. In a book of this length, it is often hard to develop the characters fully and yet Dacus manages to give the reader a feel for each personality without overdoing it. The dialogue contributed rather than distracted from the story.
This is a novel written by a Christian and several of the characters often talk to God. The general feel of the story is not overly preachy, but merely one of individuals who make a place for deity in their lives. One of the major themes in this book was forgiveness. Particularly well done was the perspective the author chose. Namely, forgiveness is not so much about the person who caused the hurt, but about the injury it causes to the person holding onto the negative feelings.
Looking for a nice, easy, read? Hoping to lose yourself in someone else's world for a while? Stand-In Groom was very enjoyable, quick and yet covered lots of ground. If you like it and hate for it to end, Dacus has added two additional books to her series.
Content Analysis:
Profanity/Language: None.
Violence/Gore: Character grabs another by the arm; report of characters dying in an accident.
Sex/Nudity: Non-married characters hug, hold hands and kiss on cheeks or lips; report of male characters trying to get female characters into bed with them.
Mature Subject Matter:
Death of parents, deceit.
Alcohol / Drug Use:
Report of characters spending a weekend drinking.
Reviewed By Susan