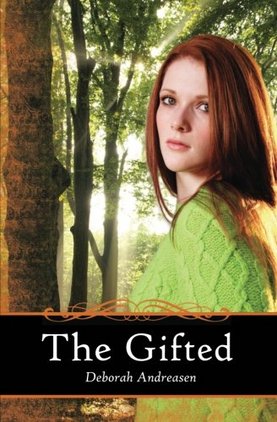 Publisher's Note:
Pyper just wants a normal life. But ever since the day she died, she's been able to control objects with her mind. What she can't control is a mother who fears Pyper's ability and the possibility of it being discovered. Pyper only finds solace in her friend and brother, Baler. When Pyper moves to yet another new school, she meets Kael, who takes an immediate interest in her. He knows her secret, and he needs her help saving the Fae people. The problem is, Pyper doesn't believe in Faeries. But when her brother is abducted, Pyper doesn't have much choice. Can she really save a race she doesn't believe exists? Can she rescue her brother? And can she accept her second chance at life?
This book was sent to Compass Book Ratings for review by CreateSpace
The Gifted
by Deborah Andreasen
Overall Review:
The world of Faeries is split in two with both sides vying for the kingdom. They are searching for someone to help end the division. Enter Pyper with her amazing Gift and there is no end to the rollercoaster of adventure that ensues! Riveting! I was completely entranced from the very first page! Throw together some fantasy, adventure, romance, grouchy teenagers, and exciting twists and turns along the way, and you get 'The Gifted': a great example of the perfect YA! I loved the development of Pyper from an awkward, angry, revengeful teenager to…well, I don't want to spoil it! The romance is sweet, the bad guys are bad, the revelations and secrets are surprising, and everyone is not quite what they seem to be. Deborah Andreasen is a talented author that will keep you turning those pages!
Content Analysis:
Not only is this an engaging read, it's super clean! There was only one mild word used, and it wasn't used as an expletive—it was used to describe the horrible place they were in.
Two characters are attracted to each other and kiss a few times. There are no innuendoes or descriptions. It's very clean and very sweet.
There is some action violence. A character is attacked by an evil person. A few characters are beaten and tortured. There is a big battle between two characters. All of these are well handled: described enough to make you know what's happening and 'feel' it, but not to the point of overdoing it. This is perfect for a young teenager, but teenagers at heart will love it, too!
Mature Subject Matter:
***
Alcohol / Drug Use:
***
Reviewed By Emily