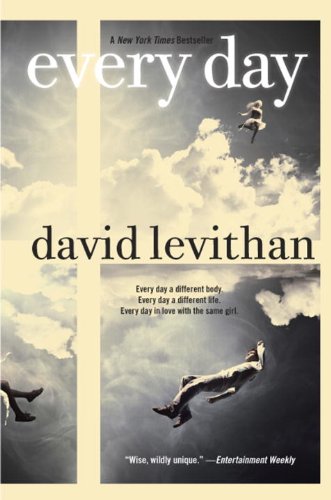 Publisher's Note:
In his New York Times bestselling novel, David Levithan introduces readers to what Entertainment Weekly calls a "wise, wildly unique" love story about A, a teen who wakes up every morning in a different body, living a different life.
Every day a different body. Every day a different life. Every day in love with the same girl.
There's never any warning about where it will be or who it will be. A has made peace with that, even established guidelines by which to live: Never get too attached. Avoid being noticed. Do not interfere.
It's all fine until the morning that A wakes up in the body of Justin and meets Justin's girlfriend, Rhiannon. From that moment, the rules by which A has been living no longer apply. Because finally A has found someone he wants to be with—day in, day out, day after day.

With his new novel, David Levithan, bestselling co-author of Will Grayson, Will Grayson, and Nick and Norah's Infinite Playlist, has pushed himself to new creative heights. He has written a captivating story that will fascinate readers as they begin to comprehend the complexities of life and love in A's world, as A and Rhiannon seek to discover if you can truly love someone who is destined to change every day.
This book was sent to Compass Book Ratings for review by Random House
Every Day
by David Levithan
Overall Review:
If you're looking to read a unique, thought-provoking book, Every Day will fit the bill. David Levithan really thinks outside the box with an intriguing plot that could have gone in so many directions. The main character, who refers to himself as A, lives each day in a new person's body. Sometimes he's in a boy's body and other times a girl's body but it's always someone his same age and it's been this way his entire life. With a few exceptions, A is an incredibly likeable and selfless character and just when you're certain you know his next move, he proves you wrong. The storyline is also unpredictable; you never know where A will end up next or what will change from how things have always been for him. Be sure to read this either with a friend or suggest it for a book club because you will want to discuss various things that occur in the book. So many issues are addressed that really make you think and a few pretty big things are left open for interpretation. With beautiful language and something for almost anyone to relate to, this book will appeal to a wide audience.
Content Analysis:
Profanity/Language: 6 religious exclamations; 6 mild obscenities; 5 derogatory names; 2 scatalogical words.
Violence/Gore: Few (9) brief incidents including character wants to punch self; character makes list of ways to kill yourself; father hits son; character has scars from cutting self; characters make reference to committing murder; fist fight; second hand report of teenagers fighting.
Sex/Nudity: Many (53) brief incidents, all involving teenage characters (except where noted), including holding hands; kissing; hugging; making out; 8-year-old character reading about naming private parts then doing that; sexual innuendo; pretending character is in public in thong underwear; character making fun of another character who is an "unsexy girl trying to dress sexy"; second hand report of teenage girl telling friend she's pregnant; character referred to as a whore; joking that a girl got another girl pregnant; touching under shirt; couple talking about having sex; character admitting to never having had sex.

Two extended incidents of a couple making out; nudity with sexual innuendo and touching areas normally covered by bathing suit.
Mature Subject Matter:
Teenagers skipping school; father hits son; mention of purgers addicts and anorexic characters; character with suicidal thoughts; second hand report of drunk driving; character struggles with gender identity; teen pregnancy; character's grandfather dies.
Alcohol / Drug Use:
Smoking; reference to empty beer bottles; teenager smoking a joint; teenagers dealing and doing drugs; characters waking up drunk or with a hangover; character up late getting high and body needing more drugs; uncle giving minor a sip of beer; teenagers drinking at a party; character mentioning he likes another character's mom's pills; character thinking about giving a male character a birth control pill; looking at character like he is on cocaine; second hand report of drunk driving.
Reviewed By Jenny