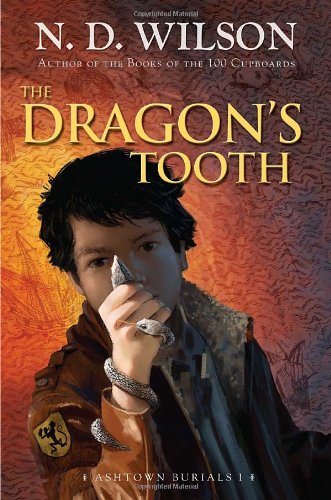 Publisher's Note:
N. D. Wilson, author of Leepike Ridge and 100 Cupboards, returns with an action-packed adventure that will captivate fans of both Percy Jackson and Indiana Jones with lost civilizations, ancient secrets, and buried treasure.

For two years, Cyrus and Antigone Smith have run a sagging roadside motel with their older brother, Daniel. Nothing ever seems to happen. Then a strange old man with bone tattoos arrives, demanding a specific room.

Less than 24 hours later, the old man is dead. The motel has burned, and Daniel is missing. And Cyrus and Antigone are kneeling in a crowded hall, swearing an oath to an order of explorers who have long served as caretakers of the world's secrets, keepers of powerful relics from lost civilizations, and jailers to unkillable criminals who have terrorized the world for millennia.
This book was sent to Compass Book Ratings for review by Random House
The Dragon's Tooth
by N. D. Wilson
Overall Review:
Wilson's strange, quirky story with an undeniably Gothic feel starts off in the last place you might expect—a run-down roadside motel that is the only home siblings Dan, Antigone, and Cyrus have after the mysterious death of their father and their mother's subsequent serious injury, which has kept her in a coma for two years. The story starts off quickly and the action doesn't let up until the last page, making for an engaging and intriguing read. Although there were many things about The Dragon's Tooth that reminded me strongly of other popular middle-grade adventure novels, I was continually impressed by the originality of much of the story, particularly the strange history of the Order of Brendan and Ashtown itself. Wilson drops dozens of tantalizing hints throughout the book, leaving an air of mystery shrouding many interesting details that helps pique a reader's interest in later books.
Although The Dragon's Tooth is packed with adventure and would be a perfect read for preteens and young teens who love a thrilling story, I did find myself as an adult craving a little more character development throughout the story. Dan and Antigone never really seemed to "come alive" to me, and I had trouble connecting with them, which made it harder to stay engaged in the book—despite its breakneck pace. Still, there were enough promising elements in The Dragon's Tooth to make it an enjoyable read, and one I'd recommend to any adventure-loving preteen!
Content Analysis:
Profanity/Language: None
Violence/Gore: There are several battles, most of them somewhat fantastical in nature. Several of them (~4) are brief, less than two pages; two of them (including the climax of the novel which is several chapters long) are extended. In a few instances, characters are killed in battle or murdered; all descriptions are very brief and only one of these involves blood or gore. On two occasions, fires are set (one burns down much of a building). A character attempts to poison hundreds of other characters (most survive). A character performs some kind of strange scientific/magical experiments on other characters; none of these are described, but it's hinted that they might involve pain, and some lead to death (all of this is told secondhand and not described in detail). Characters threaten each other, both verbally and with weapons.
Sex/Nudity: None
Mature Subject Matter:
Death of parent, parental illness, family secrets
Alcohol / Drug Use:
None
Reviewed By CindyB