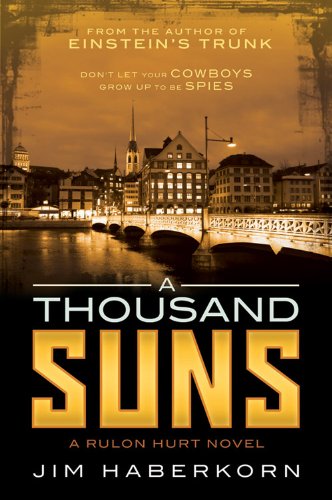 Publisher's Note:
It's not easy being an out-of-work spy---especially when you're on a hit list or two. When Rulon saves a Russian agent from a gang, he has no idea that the consequences will be the deadliest he's ever faced. With the help of his Swiss punk wife, Rulon must once again save the world in this thrilling adventure.
This book was sent to Compass Book Ratings for review by Cedar Fort
A Thousand Suns
by Jim Haberkorn
Overall Review:
In James Haberkorn's A Thousand Suns, we pick up a few years after the end of Einstein's Trunk (the first book in the series—which I recommend reading first, of course) where Rulon and Yohaba are settled happily on a ranch in Idaho. Everything is perfect until a fight between Rulon and some Nazis turns the small group against him. All of a sudden, everyone's after Rulon: Nazis, KGB, and even a few freelancers. When Rulon is put into the hospital, Yohaba decides it's time to end this and off she goes back to her homeland (Switzerland) with Boris (a KGB agent) in tow. All the characters are full of life, whether they be good or evil. Yohaba always has a comeback, and Boris makes a great sidekick! Tracking through the 'wilds' with the two of them makes for a great time!
In A Thousand Suns, we learn:
· *Idaho Cowboy lingo (Dang, heck, darlin', babe) and all things Ranchers (moving pipe, driving tractors, re-shingling a shed)
· *Hitler Nazi philosophy
· *WWII History from both points of view (American and Eastern Europe)
· *Weaponry lingo! We read the names and descriptions of just about every legal (and illegal, for that matter) assault rifle, hunting rifle, pistol, handgun, etc., there is. Plus, we learn how to load, unload, clean, take apart, and pack in your suitcase to avoid security detection at the airport!
· *How to pick out the tell-tale signs of someone following you in a crowd
· *The 3 emotional/mental stages of tiger hunting
At times gritty, always funny, and full of non-stop action, A Thousand Suns will keep you up late into the night, racing through the streets of Switzerland and wondering if there will ever be 'happily ever after' for Yohaba and Rulon. We don't find out yet, by the way, so keep your eyes open for part three in the future!
Content Analysis:
Profanity/Language: 2 mild obscenities; 1 scatalogical word.
Violence/Gore: A large character is attacked but not harmed (the other guy is hurt instead); a character tells a story of a tiger hunt (6 pg--many characters die); implied fights and many verbal threats; characters remember terrible moments from previous novel; characters are often in fist-fights (kicking, punching, body-lifting, biting, knocking out, etc); a character is shot multiple times (the stab vest saves them); 2 characters attack a stronghold, fighting ensues (4pgs); 2 extended replays from previous fights (3 and 4 pgs); a character wraps others in duct tape a few times; detailed fight between 2 characters (8pg, 4 pg); snipers shoot at characters (4pg); A 16 page chase scene--involves knives, guns, kicking, choking, etc., and 2 characters are killed; a character is brutally shot (2pg); a character imagines a fight scene (2pg); a few scenes of blood with detail after shootings; a character is shot and presumed dead (5pg); a character shoots a dog multiple times (2pg--it dies); A 12 pg extended scene of fight/shooting where 2 characters are killed in detail; a character tries to kill another, but is shot instead (3pg); a big hand to hand contact fight between two 'champions' (really big guys)--7pg; a character is trapped with many others pointing guns at him (4pg).
Sex/Nudity: A few kisses between characters; a character talks about loving another man's wife; 2 innuendoes; 2 instances of flirting.
Mature Subject Matter:
Death of family members and pets, Murder/killing, Revenge, Intense Action Violence.
Alcohol / Drug Use:
A few scenes in bars with characters drinking Jack Daniels, beer, vodka.
Reviewed By Emily