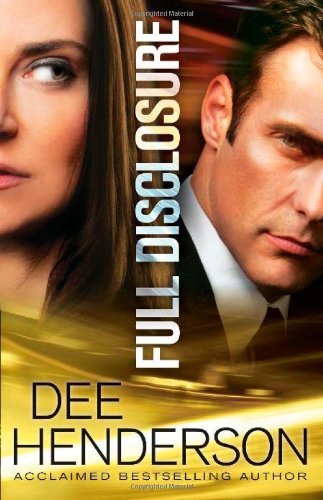 Publisher's Note:
Dee Henderson Is Back!

Ann Silver is a cop's cop. As the Midwest Homicide Investigator, she is called in to help local law enforcement on the worst of cases, looking for answers to murder. Hers is one of the region's most trusted investigative positions.

Paul Falcon is the FBI's top murder cop in the Midwest. If the victim carried a federal badge or had a security clearance, odds are good Paul and his team see the case file or work the murder.

Their lives intersect when Ann arrives to pass a case off her desk and onto his. A car wreck and a suspicious death offer a lead on a hired shooter he is tracking. Paul isn't expecting to meet someone, the kind that goes on the personal side of the ledger, but Ann Silver has his attention.

The better he gets to know her, the more Paul realizes her job barely scratches the surface of who she is. She knows spies and soldiers and U.S. Marshals, and has written books about them. She is friends with the former Vice President. People with good reason to be cautious about who they let into their lives deeply trust her. Paul wonders just what secrets Ann is keeping, until she shows him the John Doe Killer case file, and he starts to realize just who this lady he is falling in love with really is...
Full Disclosure
by Dee Henderson
Overall Review:
Fans of Dee Henderson's O'Malley series will be disappointed in Full Disclosure. According to publishing dates, it has been nearly six years since she published anything and it shows. Quick summary: boring and ever so long. It never seemed to end.
Paul Falcon is a character who has appeared peripherally in other books by Henderson and is now the feature of the story. He is "fascinated" by a woman named Ann Silver; so fascinated that the author continually uses this word over and over and over. Not only that, but Ann Silver is presented as the author of the O'Malley and Uncommon Heroes series both penned by Dee Henderson. Throughout the book, readers receive liberal doses of self-promoting aggrandizements about the series and their author. She is nearly perfect, if you believe her friends.
In developing a relationship between the lead characters, Henderson has them sitting in front of Skype sessions and watching one another work, sleep and eat. Perhaps fun for them, but beyond boring for readers. Add to this relationship conversations that read like formal interviews and the romance is off to a hot start. Suddenly, after only a few personal meetings, the stand-offish Ann is accepting hugs from Paul. Not buying it at all. It just gets worse as things continue.
Later, when the relationship is well established, the characters are still speaking like partners in a potential business deal--formal, with a bit of hugging or kissing to seal the deal. Additionally, Henderson has her two very adult characters often telling the other what to do, in command form. As in "go read a book," write something, eat something, etc. It reads almost like a parent child relationship, but less fun.
The story was also supposed to have a bit of mystery or something in it, but it lacks any of the intense or suspenseful scenes for which Henderson is or should I say was known. In fact, the author spent most of her time telling everything in laborious conversations that never seemed to end and very little time building anticipation. The greatest anticipation came during the last three or four pages, because it was finally almost over.
Content Analysis:
Profanity/Language: None
Violence/Gore: Multiple mentions of serial killings ranging in number from 20-30 individuals; report of character's death in car accident; report of character paid to kill another; two reports of parents killing children; report of character being shot; five reports of suicide or attempted suicide, different incidents; pool of blood in photograph; report of characters being bound; character hits another character.
Sex/Nudity: Character asks if another character has slept with anyone; report that another character knows who sleeps with whom; non-married and married characters kiss, embrace and hold hands; character says he wants to take another to bed.
Mature Subject Matter:
Murder, death of family member, deceit, adoption, suicide.
Alcohol / Drug Use:
Report of character involuntarily injected with drugs; character reported to overuse sleeping pills for brief time.
Reviewed By Susan