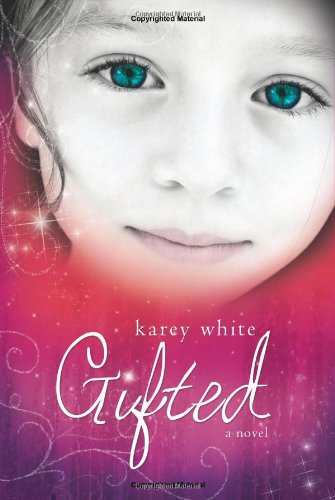 Publisher's Note:
Susan and Brent Weller have been married for several years and have been unable to have children. They adopt Anna, a beautiful baby girl orphaned in a terrible car accident. As Anna grows, Susan and Brent discover that she's blessed with unusual gifts that both bless and complicate their lives.

When Anna starts school, she meets Kelsey, a scared, poor and terribly neglected little girl who finds love and acceptance from Anna and her parents. As the years pass, Susan and Brent do their best to provide Anna with a normal, happy childhood, even as they feel a responsibility to protect her from having her special gifts exploited. But with maturity comes independence and Anna begins to make choices that threaten to shatter Susan and Brent's happy and comfortable life. Will Susan and Brent be able to protect their daughter or will her choices change all their lives forever?
This book was sent to Compass Book Ratings for review by Cedar Fort
Gifted
by Karey White
Overall Review:
Gifted by Karey White captivated me the moment I opened the book. I was instantly drawn to the characters and their unique perspective as new parents to a remarkable baby. This baby grows into a lovely young woman with talents that are difficult at times for the family to understand. At times I was hoping, or expecting these gifts to present more twists or surprises, thinking they would take on a "super hero" quality. But, as the book chronicled the young life of the main character, these expectations turned into an understanding of the true purpose of the book, and the special meaning behind her gifts. The writing was well done for a budding author, and the story was interesting and different for this genre. Although geared toward members of The Church of Jesus Christ of Latter Day Saints, anyone could enjoy the story without being bombarded with religious references. I found myself loving the characters, and touched by the simpleness of the plot. The cover of the book is a good representation of how one might feel while reading this book; intrigued, magical, and blessed. Although the lead up to some of the most pivotal and poignant moments felt somewhat abrupt, it didn't take away from the overall beauty of the book and the main character's heart-warming uniqueness. The book was a quick read, very uplifting, and definitely squeaky clean.
Content Analysis:
A delightful, uplifting, squeaky clean book. There is mention of fighting, but nothing graphic or disturbing. One of the main character's father is a drunk and his outbursts are briefly described. There is one scene where a gun is involved but it doesn't tarnish the clean nature of the book. I would not have a problem with my own 12 year old reading this book. With mild mature themes, this book is recommended for ages 12 and up, but geared toward adult women, specifically mothers
Mature Subject Matter:
***
Alcohol / Drug Use:
***
Reviewed By SqueakyCleanReads