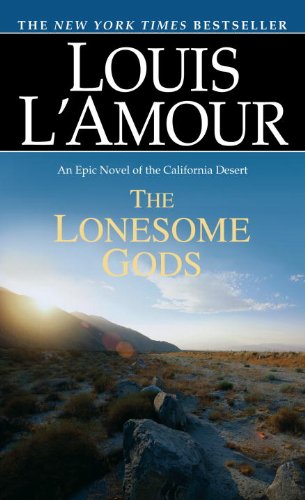 Publisher's Note:
"I am Johannes Verne, and I am not afraid."

This was the boy's mantra as he plodded through the desert alone, left to die by his vengeful grandfather. Johannes Verne was soon to be rescued by outlaws, but no one could save him from the lasting memory of his grandfather's eyes, full of impenetrable hatred. Raised in part by Indians, then befriended by a mysterious woman, Johannes grew up to become a rugged adventurer and an educated man. But even now, strengthened by the love of a golden-haired girl and well on his way to making a fortune in bustling early-day Los Angeles, the past may rise up to threaten his future once more. And this time only the ancient gods of the desert can save him.
The Lonesome Gods
by Louis L'Amour
Overall Review:
In The Lonesome Gods, Louis L'Amour delivers one of his most riveting stories--one of love, revenge, legends, and the West. The Lonesome Gods is not one of his romantic style novels, and therefore his protagonist is a serious and somber character, but likeable and strong. One of the most fascinating aspects of this novel is L'Amour's incredible knowledge of cultures, people, and legends of not only the West, but of many nations around the globe. This knowledge allows L'Amour to paint a fanciful, perhaps even epic, Western tale set in and around 19th century Los Angeles. The themes of this story are many, but one thing is for sure, it will make you want to visit the Southwest to see and experience the desert and the West as Louis L'Amour describes it.
Content Analysis:
Profanity/Language: 2 religious exclamations, 34 mild obscenities, 1 religious profanity; 1 derogatory name.
Violence/Gore: Multiple battles involving fists and guns, resulting in death or injury of varying degrees, with and without some graphic description and gore. One character is killed with a powerful blow to the stomach which causes him to bleed from the mouth and ears. A child is left to die in the desert, and one man is thrown off a cliff. One man goes mad in the desert, and there is one mildly graphic description of a native American being shot in the head. Several characters are threatened with violence of varying natures, and there are several reports of violence.
Sex/nudity: None
Mature Subject Matter:
Revenge, family problems, orphans.
Alcohol / Drug Use:
Some characters drink and smoke.
Reviewed By Jackson