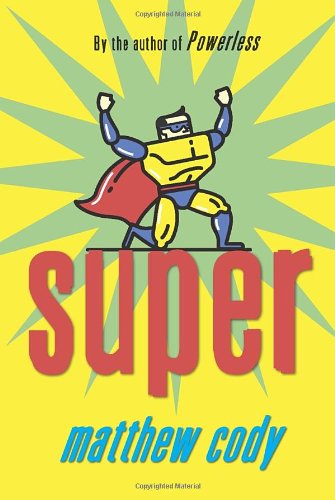 Publisher's Note:
Daniel Corrigan is as regular as can be, especially when compared to the Supers: kids in his new hometown with actual powers like flight and super strength. But Daniel's not powerless. Only he was able to stop the Shroud, a supervillian bent on stealing his newfound friends' powers. And thanks to him, his friends got to keep those powers.

Now Daniel himself is starting to display powers, while at the same time, his friends are losing theirs. His friend Eric thinks Daniel is just becoming a Super himself, a late-blooming one. But Daniel worries there may be something more sinister at work, since his power-stealing ability is uncomfortably like the Shroud's. Of course, the Shroud is gone now . . . or is he? And could Daniel himself be his new vessel?
This book was sent to Compass Book Ratings for review by Knopf Books for Young Readers
Super
by Matthew Cody
Overall Review:
Super by Matthew Cody is an excellent sequel to Powerless. It carries over many of the lovable elements, which include but aren't limited to, adventure, mystery, and appealing characters. Once again, we find our young heroes in another mystery, along with the usual stress and drama of their everyday lives. The adventure is exciting, and the fast pacing make the pages of the novel blur as you blaze through them at super-speed. Initially, I was hoping for a different angle. However, the ending, which I found surprising, more than compensated for this. In fact, I do hope to see more novels by Matthew Cody that expand upon and deepen the world and characters he has created.
Content Analysis:
Profanity/Language: 1 scatalogical term
Violence/Gore: Several fight scenes and battles that result in various degrees of injury and destruction of property. There are several scenes that could be considered frightening, and one instance of a dream of a fight where a character suffers a serious wound. Several reports of violence and threats.
Sex/Nudity: Two characters kiss, and there is one naked toddler escaping bath time.
Mature Subject Matter:
Responsibility, broken families.
Alcohol / Drug Use:
It is reported that some characters drink.
Reviewed By Jackson