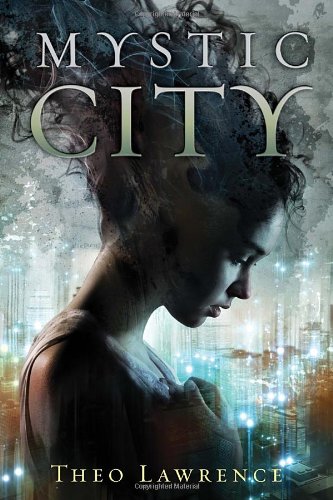 Publisher's Note:
For fans of Matched, The Hunger Games, X-Men, and Blade Runner comes a tale of a magical city divided, a political rebellion ignited, and a love that was meant to last forever. Book One of the Mystic City Novels.

Aria Rose, youngest scion of one of Mystic City's two ruling rival families, finds herself betrothed to Thomas Foster, the son of her parents' sworn enemies. The union of the two will end the generations-long political feud—and unite all those living in the Aeries, the privileged upper reaches of the city, against the banished mystics who dwell below in the Depths. But Aria doesn't remember falling in love with Thomas; in fact, she wakes one day with huge gaps in her memory. And she can't conceive why her parents would have agreed to unite with the Fosters in the first place. Only when Aria meets Hunter, a gorgeous rebel mystic from the Depths, does she start to have glimmers of recollection—and to understand that he holds the key to unlocking her past. The choices she makes can save or doom the city—including herself.
This book was sent to Compass Book Ratings for review by Random House
Mystic City
by Theo Lawrence
Overall Review:
Imagine if Shakespeare and Sharon Shinn wrote an episode of The Sopranos that took place in the future and you have Mystic City. There's just so much to like about this book: a little familiarity in the storyline, some magic, romance, conflict, loyalty and the list goes on. Pretty much anyone can find something in the story to relate to. Good versus evil always makes for an interesting story and this book is no exception. It even gets a bit tricky as you try to determine which side some of the characters are on, several of whom are very unpredictable and provide plenty of surprises. Theo Lawrence also does an incredible job with the visuals, really helping you see what the future may hold. This book easily a top rating from me and I can't wait to see where Lawrence takes us in the next book!
Mystic City is book one of the Mystic City series with book two, Toxic Heart, coming out in the summer of 2013.
Content Analysis:
Profanity/Language: 9 religious exclamations; 9 mild obscenities; 1 religious profanity; 3 derogatory names; 4 scatalogical words; 5 anatomical terms.
Violence/Gore: Many (30) brief incidents including but not limited to the following: verbal threats; threatened with gun; second hand report of character being killed; parents slap character; characters getting shot; torture; magical powers injuring another character; One extended incident of an attack with guns and magical fighting.
Sex/Nudity: Many (53) brief incidents including kissing; holding hands; hugging; making out; thinking and talking about kissing; innuendo; second hand report of boys bumping into female character so they can "cop a feel"; two incidents of touching areas normally covered by bathing suit, beneath clothing.
Mature Subject Matter:
War; drugs; poverty; prejudice.
Alcohol / Drug Use:
Drinking and doing drugs at parties; characters overdosing on illegal fantasy drug; smoking cigarette; character offered drugs; drinking wine with dinner; character having a crazy (fantasy) reaction to taking drug.
Reviewed By Jenny