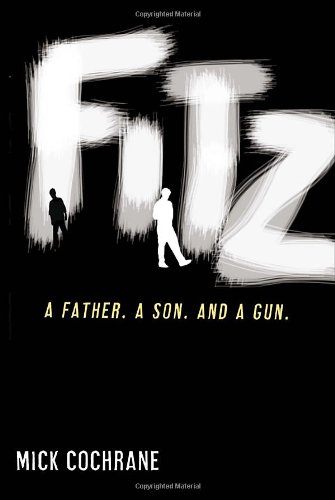 Publisher's Note:
Sometimes Fitz would look at himself in the mirror, an expression of pathetic eagerness on his face. He was a dog in the pound, wanting to be adopted. He'd smile. What father wouldn't want this boy?

Fifteen-year-old Fitzgerald—Fitz, to his friends—has just learned that his father, whom he's never met, who supports him but is not a part of his life, is living nearby. Fitz begins to follow him, watch him, study him, and on an otherwise ordinary May morning, he executes a plan to force his father, at gunpoint, to be with him.

Over the course of one spring day, Fitz and his father become real to one another. Fitz learns about his father, why he's chosen to remain distant and what really happened between him and Fitz's mother. And his father learns what sort of boy his son has grown up to become.
This book was sent to Compass Book Ratings for review by Random House
Fitz
by Mick Cochrane
Overall Review:
Fitz by Mike Cochrane is an incredibly emotional story of a teenage boy who grew up without his father around. He's never met his father and knows very little about him even though they lived very close to each other. When Fitz decides to introduce himself in a very unconventional way, we meet the vehement side of him. Mick Cochrane does an amazing job with the characters, especially Fitz and Curtis. They feel genuine and you really feel like you know them by the end of the book. As intense and potentially violent as the plot was, it wasn't dark and it made you contemplate how you might feel and respond if in a similar situation to Fitz's. One of the things I enjoyed most was the light humor that would sneak in from time to time and really broke the tension. Both male and female audiences will really enjoy Fitz.
Content Analysis:
Profanity/Language: 2 religious exclamations; 2 mild obscenities.
Violence/Gore: A few (7) brief incidents including threatening with a gun; shooting an inanimate object; imagining someone dying if they were shot; song lyrics about shooting a man. One extended incident of character pulling a gun on another character.
Sex/Nudity: Character got "knocked up".
Mature Subject Matter:
Death of a family member due to cancer.
Alcohol / Drug Use:
Reference to a drug dealer; character smoking cigarette; mention of kids doing drugs; reference that dads drinks beer and sometimes get drunk; second hand report that character is drunk a lot; character feeling as though at a bar; reference to an alcoholic musician; father sold son for drug money; analogy of something like drinking a spiked drink; character imagining his dad drinking wine.
Reviewed By Jenny