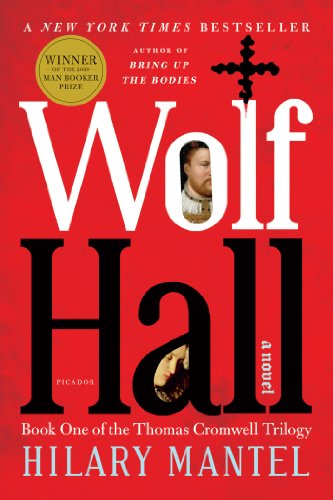 Publisher's Note:
WINNER OF THE 2009 MAN BOOKER PRIZE
WINNER OF THE NATIONAL BOOK CRITICS CIRCLE AWARD FOR FICTION
A NEW YORK TIMES BESTSELLER

England in the 1520s is a heartbeat from disaster. If the king dies without a male heir, the country could be destroyed by civil war. Henry VIII wants to annul his marriage of twenty years and marry Anne Boleyn. The pope and most of Europe opposes him. Into this impasse steps Thomas Cromwell: a wholly original man, a charmer and a bully, both idealist and opportunist, astute in reading people, and implacable in his ambition. But Henry is volatile: one day tender, one day murderous. Cromwell helps him break the opposition, but what will be the price of his triumph?
Wolf Hall
by Hilary Mantel
Overall Review:
"It is all very well planning what you will do in six months, what you will do in a year, but it's no good at all if you don't have a plan for tomorrow."
---Hilary Mantel, Wolf Hall
I found starting Hilary Mantel's award-winning Wolf Hall a formidable challenge. At over 600 pages and with a font size of 10 point, I wondered if I would be reading something akin to a high school textbook. Yet I was pleasantly surprised at how engaging, interesting, and quick-paced Wolf Hall was.
Hilary Mantel tackles the infamous split of King Henry VII from Queen Catherine and Rome. All events are told through the eyes of Thomas Cromwell, a poor blacksmith's son who quickly rises in favor to become the king's chief minister and right-hand man. Mantel's narrative style is unique -- key plot information comes fast and is often subtle. The story is very involved and unfortunately it's sometimes difficult to keep characters straight. Yet readers will appreciate Mantel's attention to detail and historical prowess as the story breathes life into historical figures of long ago. I can't wait to continue the adventure in Wolf Hall's highly-praised sequel, Bring Up the Bodies.
Content Analysis:
Profanity/Language: 68 religious exclamations, 4 mild obscenities, 2 religious profanities, 40 derogatory names, 3 scatological words, 1 offensive hand gesture and 7 f-word derivatives.
Violence/Gore: Second-hand accounts of violence involving battle, burnings, murder, heretics and torture. A group is poisoned and two people die. Violent scenes include a father beating his son and torture of prisoners. There are several incidents of non-detailed, violent death involving burning at the stake and beheadings.
Sex/Nudity: A few incidents of kissing. As the novel revolves around King Henry trying to find a way to divorce Queen Katherine and marry Anne Boleyn, there are frequent sexual references and implied or reported sexual activity. There are a few incidences of touching, caressing and nudity with sexual innuendo. An explicit description of acts done in a brothel occurs.
Mature Subject Matter:
Religious and social conflict, death of a family member, divorce, marriage infidelity
Alcohol / Drug Use:
Frequent drinking occurs.
Reviewed By Rachel