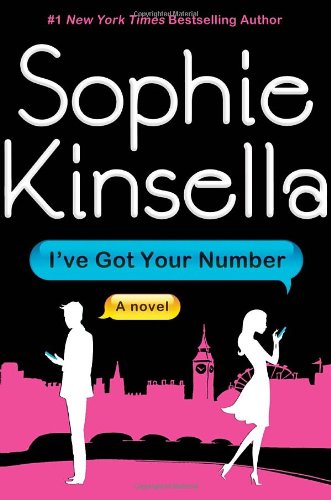 Publisher's Note:
I've lost it. :( The only thing in the world I wasn't supposed to lose. My engagement ring. It's been in Magnus's family for three generations. And now the very same day his parents are coming, I've lost it. The very same day! Do not hyperventilate, Poppy. Stay positive :) !!

Poppy Wyatt has never felt luckier. She is about to marry her ideal man, Magnus Tavish, but in one afternoon her "happily ever after" begins to fall apart. Not only has she lost her engagement ring in a hotel fire drill but in the panic that follows, her phone is stolen. As she paces shakily around the lobby, she spots an abandoned phone in a trash can. Finders keepers! Now she can leave a number for the hotel to contact her when they find her ring. Perfect!

Well, perfect except that the phone's owner, businessman Sam Roxton, doesn't agree. He wants his phone back and doesn't appreciate Poppy reading his messages and wading into his personal life.

What ensues is a hilarious and unpredictable turn of events as Poppy and Sam increasingly upend each other's lives through emails and text messages. As Poppy juggles wedding preparations, mysterious phone calls, and hiding her left hand from Magnus and his parents . . . she soon realizes that she is in for the biggest surprise of her life.
I've Got Your Number
by Sophie Kinsella
Overall Review:
Sophie Kinsella is known for her best-selling chick lit, including the famous Shopaholic series. In her latest novel, I've Got Your Number, main character Poppy has a knack for getting herself in trouble. Big trouble. Poppy's escapades result in hilariously embarassing, laugh-out-loud moments. One scene in particular has me giggling just thinking about it! While the plot is extremely far-fetched, it didn't really matter as the book doesn't take itself too seriously. The use of text messages throughout the story was clever and the ending could be straight out of a movie. Try I've Got Your Number for light-hearted and fun entertainment.
Content Analysis:
Profanity/Language: 87 religious exclamations, 27 mild obscenities, 5 derogatory names, 25 scatological words, 1 anatomical term and 51 f-word derivatives.
Violence/Gore: None
Sex/Nudity: A few sexual references and characters kissing; a few implied or reported incidents of sexual activity; one incident of sexual activity between adults without explicit details.
Mature Subject Matter:
Death of a family member, fraud, unfaithfulness
Alcohol / Drug Use:
Drinking is prevalent.
Reviewed By Rachel