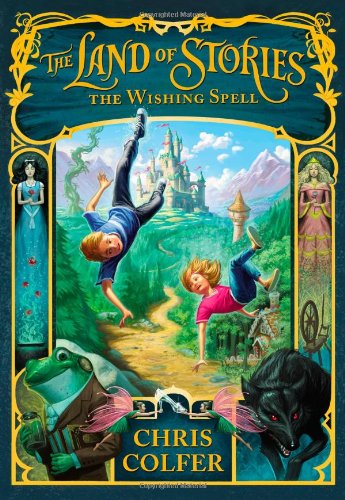 Publisher's Note:
Alex and Conner Bailey's world is about to change, in this fast-paced adventure that uniquely combines our modern day world with the enchanting realm of classic fairy tales.

The Land of Stories tells the tale of twins Alex and Conner. Through the mysterious powers of a cherished book of stories, they leave their world behind and find themselves in a foreign land full of wonder and magic where they come face-to-face with the fairy tale characters they grew up reading about.

But after a series of encounters with witches, wolves, goblins, and trolls alike, getting back home is going to be harder than they thought.
The Land of Stories: The Wishing Spell
by Chris Colfer
Overall Review:
The Land of Stories: The Wishing Spell by Chris Colfer is fantasy aimed firmly at younger middle grade readers. The story follows the twins, Alex and Conner, on an adventure through a land comprised of familiar fairy tale characters. With both a male and a female protagonist, this book will appeal to both boy and girl readers. The formula and format is fairly straightforward and since this type of fantasy has been written many times, there are no real surprises here. Although this book doesn't bring anything particularly new to the genre, it is a pleasant read and young lovers of fairy tales will thoroughly enjoy sharing the twins' adventure and the intertwined fairy tales.
The author, Chris Colfer, is an actor from the television show Glee and this is his debut novel.
Content Analysis:
Profanity/Language: 6 religious exclamations; 1 mild obscenities; 2 derogatory names.
Violence/Gore: References to Grimm's Fairy Tales (witches pushed into ovens and so forth); report of a parent dying in an accident; a student throws a book and hits a teacher; scene where a character fights animals using a sword--human and animals are injured with brief mention of blood; destruction by fire, no casualties; report of animals attacking and implied death of a human; lantern kicked into an animal setting ablaze; animal is scratched; crash and minor injuries; characters are knocked unconscious; a character is dragged behind a horse with only minor injury; a character slaps another; report of poisonings and cutting out of a heart; a non-graphic battle scene involving daggers, swordfights, arrows, and a fall to apparent death.
Sex/Nudity: Characters kiss; there is a passing reference to "affairs"
Mature Subject Matter:
Death of a parent
Alcohol / Drug Use:
None
Reviewed By Cindy