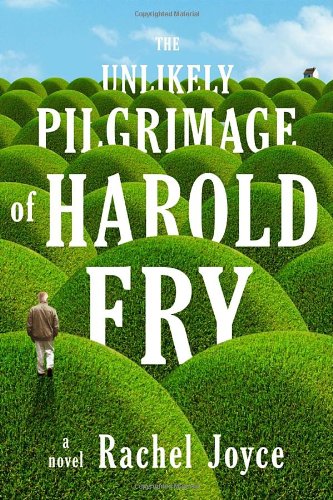 Publisher's Note:
Meet Harold Fry, recently retired. He lives in a small English village with his wife, Maureen, who seems irritated by almost everything he does, even down to how he butters his toast. Little differentiates one day from the next. Then one morning the mail arrives, and within the stack of quotidian minutiae is a letter addressed to Harold in a shaky scrawl from a woman he hasn't seen or heard from in twenty years. Queenie Hennessy is in hospice and is writing to say goodbye.

Harold pens a quick reply and, leaving Maureen to her chores, heads to the corner mailbox. But then, as happens in the very best works of fiction, Harold has a chance encounter, one that convinces him that he absolutely must deliver his message to Queenie in person. And thus begins the unlikely pilgrimage at the heart of Rachel Joyce's remarkable debut. Harold Fry is determined to walk six hundred miles from Kingsbridge to the hospice in Berwick-upon-Tweed because, he believes, as long as he walks, Queenie Hennessey will live.

Still in his yachting shoes and light coat, Harold embarks on his urgent quest across the countryside. Along the way he meets one fascinating character after another, each of whom unlocks his long-dormant spirit and sense of promise. Memories of his first dance with Maureen, his wedding day, his joy in fatherhood, come rushing back to him—allowing him to also reconcile the losses and the regrets. As for Maureen, she finds herself missing Harold for the first time in years.

And then there is the unfinished business with Queenie Hennessy.

A novel of unsentimental charm, humor, and profound insight into the thoughts and feelings we all bury deep within our hearts, The Unlikely Pilgrimage of Harold Fry introduces Rachel Joyce as a wise—and utterly irresistible—storyteller.
This book was sent to Compass Book Ratings for review by Transworld Publishers
The Unlikely Pilgrimage of Harold Fry
by Rachel Joyce
Overall Review:
The Unlikely Pilgrimage of Harold Fry is the debut novel from award-winning radio playwright Rachel Joyce. It's the story of Harold, a recently retired quiet man from South of England. On receiving a letter from a long-lost acquaintance telling him she is dying of cancer, he writes her a letter and sets out to the end of his road to post it. When he gets there, he decides he doesn't want to stop, it's not enough, so he just keeps walking.
A meeting with a girl working in a garage inspires him and Harold sets out with a noble intention, to walk the length of England to try to save his friend. Without plans, maps or suitable footwear he walks North. He walks to thank his former colleague for helping him and he walks to atone for mistakes he has made in his life. Memories of his past are his constant companions, and as the scenery changes so does Harold.
This is a truly beautiful book that left me with a lot to think about and a renewed appreciation for life and friendships in all their fleeting beauty. Highly recommended.
Content Analysis:
Profantity/Language: 2 religious exclamations, 4 derogatory names, 8 scatological words, 2 anatomical terms, 18 F-word derrivatives. (All F-word derivatives are spoken by one character over a stretch of 5-6 pages)
Violence/Gore: Second hand report of violence; verbal threat; a character commits suicide (reported).
Sex/Nudity: 3 sexual references; 6 incidences of implied or reported sexual activity.
Mature Subject Matter:
Death of a family member, terminal illness, robbery, illegal drugs, alcoholism, addiction, suicide, homosexuality.
Alcohol / Drug Use:
Two characters are alcoholics; adults smoke cigarettes; use of cocaine is mentioned.
Reviewed By Ailsa