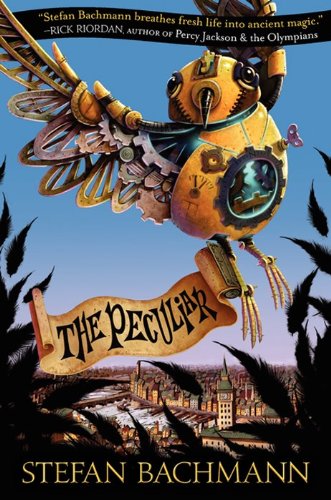 Publisher's Note:
Don't get yourself noticed and you won't get yourself hanged.
In the faery slums of Bath, Bartholomew Kettle and his sister Hettie live by these words. Bartholomew and Hettie are changelings—Peculiars—and neither faeries nor humans want anything to do with them.
One day a mysterious lady in a plum-colored dress comes gliding down Old Crow Alley. Bartholomew watches her through his window. Who is she? What does she want? And when Bartholomew witnesses the lady whisking away, in a whirling ring of feathers, the boy who lives across the alley—Bartholomew forgets the rules and gets himself noticed.
First he's noticed by the lady in plum herself, then by something darkly magical and mysterious, by Jack Box and the Raggedy Man, by the powerful Mr. Lickerish . . . and by Arthur Jelliby, a young man trying to slip through the world unnoticed, too, and who, against all odds, offers Bartholomew friendship and a way to belong.
Part murder mystery, part gothic fantasy, part steampunk adventure, The Peculiar is Stefan Bachmann's riveting, inventive, and unforgettable debut novel.
The Peculiar
by Stefan Bachmann
Overall Review:
Atmospheric, gothic, unique, fresh, imaginative, brilliant--pick any of these adjectives to describe The Peculiar by Stefan Bachmann; yet none of these adjectives completely captures the essence of this book. This middle grade fantasy is a merging of a an industrial, Victorian, alternate England with old fairy magic and a nod to steampunk. Bachmann is able to quickly and efficiently create a world entwined with fairy magic where the reader feels, breathes, and tastes the fear and longing of a changeling boy, Barthlomew. The author also gives us a reluctant hero in Mr. Jelliby, who rises to the occasion because it is the right thing to do. The danger and darkness of that world are palpable and the peril authentic which is what makes this such a gripping read.
This is Stefan Bachmann's first novel (and if the ending of The Peculiar is any indication, it won't be his last). Such a strong debut novel is even more surprising in light of the fact that Mr. Bachmann began writing this book in 2010 at the ripe-old age of sixteen. As a passionate boycotter of reading jacket flaps, I did not know this until after I finished the novel. I would have never guessed that a teenager was the voice and it is truly a testament to the quality of the writing. The Peculiar is one of the best middle grade fantasies of the year and one that adults will want to reach down and read.
Content Analysis:
Profanity/Language: 1 religious exclamation.
Violence/Gore: Several scenes that could be considered scary or frightening; report of wars, deaths; report of birds pecking people to death; report of children being murdered; a character is injured by magical means; children are abducted/kidnapped; extended scene in which magic is used to attack a character; a character is report dead; extended chase scene and use of magic to attack a character; a fairy possession; a suicide (no details); a character stabs another character with a knife, mention of blood; using children to produce a magical spell (usually results in the child's death).
Sex/Nudity: None
Mature Subject Matter:
Murder, ethnic discrimination & persecution, poverty, child abduction
Alcohol / Drug Use:
A mention that a location smelled of opium.
Reviewed By Cindy