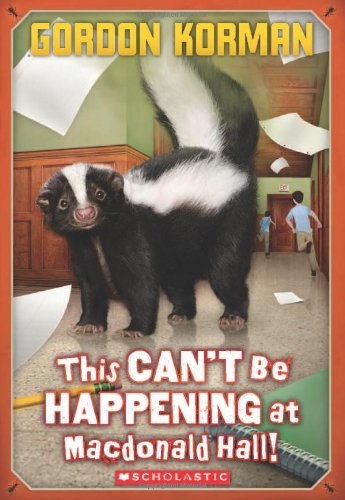 Publisher's Note:
In Gordon Korman's beloved first book, Bruno and Boots team up...and school is never the same!

Bruno and Boots are always in trouble. So the Headmaster, aka "The Fish" decides it would be best to separate them. Bruno must now room with ghoulish Elmer Dimsdale, plus his plants, goldfish, and ants. And Boots is stuck with nerdy, preppy, paranoid George Wexford-Smyth III.

Of course, this means war. Because Bruno and Boots are determined to get their old room back, no matter what it takes.
This Can't Be Happening at MacDonald Hall!
by Gordon Korman
Overall Review:
Inspired by the recent review of The Terrible Two (see review in our database), I decided to revisit a book I loved as a child. My first surprise was to see it was written by the prolific and still writing New York Times Bestselling author Gordon Korman. My second surprise was to see that this was his first book and he wrote it when he was twelve. (For a twelve year old, this is five star writing.) Looking at this book through the eyes of an adult, I cannot say it is fabulous, must-read middle grade literature, but I did adore it as a child. It is a quick and easy read with constant action, some cheesy puns, and a pair of trouble-making friends. This is an excellent choice for reluctant young readers--particularly boys. Also, if they love it, there are several more books featuring the duo Bruno and Boots, which I was completely unaware of until recently.
Content Analysis:
Profanity/Language: None
Violence/Gore: Character is scratched by an animal; character is chased by another wielding a cricket bat (told in humorous fashion); character knocked out cold; minor property damage from a shotgun.
Sex/Nudity: A panty raid is staged.
Mature Subject Matter:
Minor juvenile delinquency.
Alcohol / Drug Use:
Adult smokes cigar; passing report that Scotch was poured in punch at a past school dance and a chaperone became tipsy.
Reviewed By Cindy