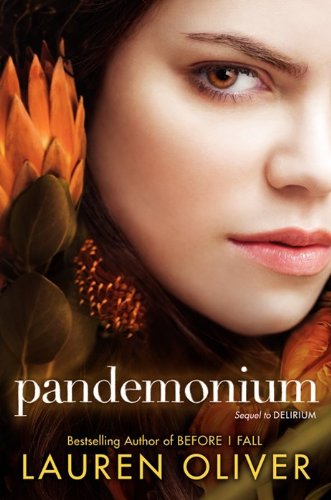 Publisher's Note:
I'm pushing aside
the memory of my nightmare,
pushing aside thoughts of Alex,
pushing aside thoughts of Hana
and my old school,
push,
push,
push,
like Raven taught me to do.
The old life is dead.
But the old Lena is dead too.
I buried her.
I left her beyond a fence,
behind a wall of smoke and ?ame.
Lauren Oliver delivers an electrifying follow-up to her acclaimed New York Times bestseller, Delirium. This riveting, brilliant novel crackles with the fire of fierce defiance, forbidden romance, and the sparks of a revolution about to ignite.
Pandemonium
by Lauren Oliver
Overall Review:
Book two of the Delirium series, Pandemonium, tells two stories in tandem: "now", which is several months following the previous book as well as "then", which is just a few days after where the previous book left off. From the beginning things aren't as expected. You know things work out at least as far as several months ahead because you're reading about the "now" but you get so lost in what you're reading that sometimes you forget. With the story switching at each chapter from past to present the suspense is twice as intense. It's fun to read the different timeframes next to each other so you can compare and contrast the different worlds and lives of the characters. There are several characters with many layers who keep things very interesting. Lauren Oliver is incredibly descriptive with her writing, really helping you visualize the story. She also certainly knows how to pique you're interest when she adds two huge surprises at the end, leaving you dying for a sneak peek into the next book (to be released March 5, 2013). This fantastic novel will entertain both male and female audiences alike.
Content Analysis:
Profanity/Language: 4 religious exclamations; 10 mild obscenities; 3 religious profanities; 28 scatalogical words; 2 anatomical terms; 2 f-word derivatives.
Violence/Gore: Many (31) brief incidents including implied violence; threats; second hand reports of murder & death; baby abandoned; parent physically abusing child; characters receiving non-life threatening injuries; scary dreams about dying and getting violently hurt; bombing; buildings exploding & people killed. Few (3) extended incidents including characters being attacked and killed; hunting incident.
Sex/Nudity: Many (29) brief incidents including cuddling; holding hands; touching face; rubbing back; hugging; non-sexual depictions of nudity; thoughts about other characters; character "bursting out of dress"; character asking to see another female character topless; metal detector wand sweeping over character's bra & between legs.
Mature Subject Matter:
Child Abandonment, murder, physical abuse.
Alcohol / Drug Use:
Minors and adults getting drunk; character smoking and chewing tobacco; character drinking alcohol to numb pain.
Reviewed By Jenny