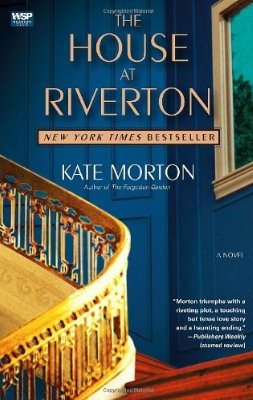 Publisher's Note:
The House at Riverton is a gorgeous debut novel set in England between the wars. Perfect for fans of Downton Abbey, it is the story of an aristocratic family, a house, a mysterious death and a way of life that vanished forever, told in flashback by a woman who witnessed it all and kept a secret for decades.
Grace Bradley went to work at Riverton House as a servant when she was just a girl, before the First World War. For years her life was inextricably tied up with the Hartford family, most particularly the two daughters, Hannah and Emmeline.
In the summer of 1924, at a glittering society party held at the house, a young poet shot himself. The only witnesses were Hannah and Emmeline and only they -- and Grace -- know the truth.
In 1999, when Grace is ninety-eight years old and living out her last days in a nursing home, she is visited by a young director who is making a film about the events of that summer. She takes Grace back to Riverton House and reawakens her memories. Told in flashback, this is the story of Grace's youth during the last days of Edwardian aristocratic privilege shattered by war, of the vibrant twenties and the changes she witnessed as an entire way of life vanished forever.
The novel is full of secrets -- some revealed, others hidden forever, reminiscent of the romantic suspense of Daphne du Maurier. It is also a meditation on memory, the devastation of war and a beautifully rendered window into a fascinating time in history.
Originally published to critical acclaim in Australia, already sold in ten countries and a #1 bestseller in England, The House at Riverton is a vivid, page-turning novel of suspense and passion, with characters -- and an ending -- the reader won't soon forget
The House at Riverton
by Kate Morton
Overall Review:
Kate Morton's The House at Riverton takes us below the stairs of a majestic English country house before the First World War. Our guide in this now-vanished universe is Grace, a young maid in service to the Ashbury family. Grace tells us about the lives of the family she serves, lives that are so closely bound up with her own.
The historical context of this book is fascinating, not just for the etiquette and traditions of the age, but also the turbulent setting of the early 20th century. The story begins before the First World War and follows the build-up to and aftermath of a war that left none untouched. The family at Riverton have times of great optimism and excitement but more than their fair share of sorrow and misfortune, in many ways they appear to reflect the state of the nation through those difficult years. Through the stories of the Hartford sisters, Grace's main charges, we follow the great changes for women as well as the challenges and sacrifices that the wars demanded.
The House at Riverton explores themes of love and loyalty, duty and sacrifice and asks just how long it is possible to keep a secret. With an ending that may surprise and shock, this is a book I couldn't leave alone for long and it is a story that will remain with me for a good while yet.
Content Analysis:
Profanity/Language: 5 religious exclamations; 7 mild obscenities; 1 F-word derivative
Violence/Gore: A character suffers a fall; death of a family member; 2 reported deaths of children; references to fighting in WW1; two men have a physical fight; a male character is violent towards a female character; a character is fatally shot, blood is mentioned.
Sex/Nudity: Various characters kiss, two adults have an extra-martial affair, there is nudity and sexual activity is implied (no detailed scenes), further implied sexual activity between adults.
Mature Subject Matter:
War, Mental issues (shell shock, depression), Death of a family member, Death of a child, Marital Infidelity, Potential Suicide, Socioeconomic Conflict.
Alcohol / Drug Use:
There are many dinner parties where wine and champagne are served.
Reviewed By Ailsa