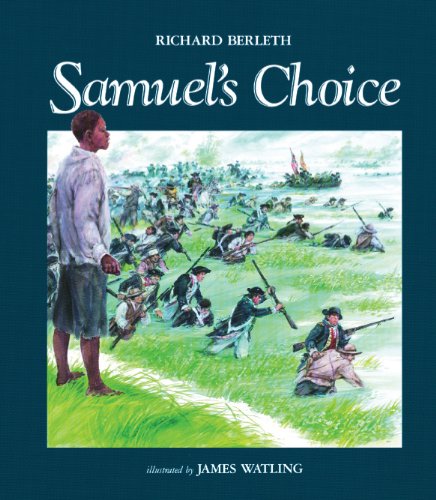 Publisher's Note:
Samuel is a fourteen-year-old enslaved African American in Brooklyn in 1776 when the fighting between the British and the colonists reaches his doorstep. "Liberty ain't for Africans," says fellow servants. "It got nothin' to do with us." But his friend Sana says, "Nobody here's gonna be free unless they take the risk." Soon the well-equipped Redcoats have trapped ragged American soldiers, who have no boats to escape, and a terrible storm blows up. Samuel, a strong boatman, must decide what he should do.
This book was sent to Compass Book Ratings for review by Albert Whitman & Co.
Samuel's Choice
by Richard Berleth
Overall Review:
Writers of children's historical fiction must love a challenge. Not only do they have to decide the amount of factual material so as not to overwhelm the young reader but they also need to create an interesting story that children will enjoy. SAMUEL'S CHOICE by Richard Berleth is a good example of this balance. Mr. Berleth successfully presents a slice of the American Revolution against the everyday struggles of a young slave named Samuel who lives in Brooklyn, New York, at that time--two important subjects for young readers.
Obviously the most important theme centers on the question of how much is freedom worth to not only free men but slaves such as Samuel and his friends Sana and Toby. Because Samuel has special skills, he is placed in a position to decide if men will live or die. Will he sacrifice his own security as a slave or his own life to help others attain a freedom he never thought possible for himself? There is plenty of drama for young readers as wounded American soldiers are trapped in the swamps of Gowanus Creek facing a rising tide, and as General Washinton looks for a way to get his men across cold and turbulent water from Brooklyn to Manhattan before the British ships came.
Mr. Berleth does an excellent job of showing that war is not pretty. He describes the fear, the death, the suffering, but he never goes over the edge that would frighten the readers in this age group. Adding Samuel's storyline helps prevent this risk. He provides a useful map of the New York Harbor area as well as historical notes at the end. A giant plus for this short book is the quality and amount of illustrations by James Watling. Mr. Watling adds wonderful clarity to the setting and the condition of the soldiers and slaves in 1776.
Content Analysis:
Profanity/Language: None
Violence/Gore: One soldier with a bloody wound and a mild description of a battle scene with men being shot in the water.
Sex/Nudity: None
Mature Subject Matter:
Racial issues, slavery, death, and war.
Alcohol / Drug Use:
None
Reviewed By Marilyn