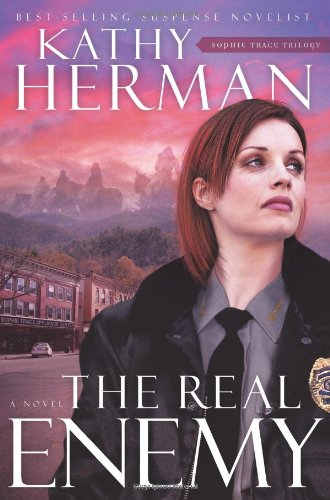 Publisher's Note:
Brill Jessup would rather work than deal with the bitterness she feels about her husband Kurt's infidelity. They've made a fresh start with Brill taking a job as the new police chief in a small East Tennessee town. Kurt is genuinely contrite and making every effort to show his commitment to Brill. Meanwhile Emily, their nine-year-old, is being the perfect little girl, as if she can make everything okay again. So why can't Brill get over this anger? Work presents the perfect distraction as rumors and superstition are running rampant in the wake of the disappearances of seven people in seven days. As fear rises in the community, Brill works desperately to solve the mystery... until it threatens her family and she is forced to confront the real enemy.
The Real Enemy
by Kathy Herman
Overall Review:
The Real Enemy by Kathy Herman is the first in the Sophie Trace Trilogy. In spite of the proclamation on the cover that this story was penned by a best-selling suspense novelist, the book disappointed in the mystery suspense department. That being said, the book itself was not a bad read, but it failed to deliver what might be considered intense mystery and suspense.
The main character, Brill Jessup, is the town of Sophie Trace's chief of police. She and her husband and daughter have recently relocated to this picturesque town hoping to find peace and healing. However, that is not to be as people turn up missing. Although the author was able to create an intriguing premise, she spent much of her time focusing on the relationship between Brill and her husband Kurt. As a result, the suspense and intensity of the criminal actions seemed secondary.
The relationship aspects of the book were developed well and certainly provided adequate opportunity for introspection. The author did a great job of portraying Emily, Brill's nine-year old daughter and her personality. Readers could very easily feel empathetic towards any number of characters in the story and perhaps even understand their emotions. While many of the characters are practicing Christians, the book does not fill its pages with overwhelming doctrinal discussions.
As this is a trilogy, it does make one curious to see the focus of subsequent books in the series. Perhaps the suspense and mystery will be given a larger focus. A fairly easy read given the gravity of the situations in the book.
Content Analysis:
Profanity/Language: None
Violence/Gore: Report of characters shoving, hitting and shooting one another; report of character killing a pre-teen, this is referenced often; reports of characters dying in car accidents, being dismembered and shot; characters shoot at others and hold people at gunpoint.
Violence/Gore: Character has previously committed adultery and this is referenced many times both directly and indirectly; pornography is mentioned, but not used by characters; married characters embrace in bed, not sexual; various reference to sexual activities cited including the word sex; non-married character kisses a married character.
Mature Subject Matter:
Adultery, kidnapping, murder, gangs, divorce.
Alcohol / Drug Use:
Character arrested a drunk driver; drug dealers at high school and middle school, peddled wears include cocaine and prescription drugs; characters involuntarily drugged, a twelve-year old reported to be a drug dealer.
Reviewed By Susan