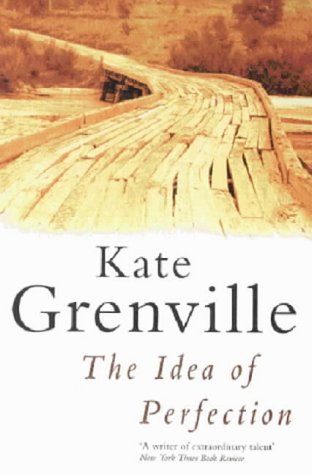 Publisher's Note:
The Idea of Perfection is a funny and touching romance between two people who've given up on love. Set in the eccentric little backwater of Karakarook, New South Wales, pop. 1374, it tells the story of Douglas Cheeseman, a gawky engineer with jug-handle ears, and Harley Savage, a woman altogether too big and too abrupt for comfort. Harley is in Karakarook to foster 'Heritage', and Douglas is there to pull down the quaint old Bent Bridge. From day one, they're on a collison course. But out of this unpromising conjunction of opposites, something unexpected happens: sometimes even better than perfection.
The Idea of Perfection
by Kate Grenville
Overall Review:
The Idea of Perfection is set in Karakarook, a small Australian town deep in the outback of New South Wales. Two incomers arrive in the town with very different purposes--one has come to help set up a new heritage museum; the other to demolish and rebuild an old bridge which is the pride of the town. Both are under intense scrutiny from the curious townspeople and uncomfortable with their new found celebrity. Small town Australia is convincingly captured; the heat and the dust are almost palpable throughout the story. The central characters of Harley and Douglas are very vivid and believable with all their imperfections and insecurities. Their awkward dialogue is funny and touching in equal measures and feels totally genuine.
A sub plot featuring the bank manager's wife and the local butcher adds to the story. Mrs Porcelline is almost a caricature in her mission to preserve her youth and her convictions about how she is seen by others. The sad realities of her character show how one dimensional any idea of perfection can be and how much a beautiful face and house can hide.
This book has a wonderful way of showing two sides to a person, to a story and to an argument. This is no fast-paced romance but the slow build of the relationships and the development of the story are very engaging. The joy of this novel lies in its quirky celebration of imperfection and the value of not giving up on something or somebody that has been damaged, but instead building strong new foundations for the future.
Content Analysis:
Profanity/Language: 3 religious exclamations, 8 mild obscenities, 11 scatological words,

Violence/Gore: One violent death is described with some blood and gore; one report of a violent act; a character nearly drowns; a property is destroyed by fire with no casualties.
Sex/Nudity: Several characters kiss; several sexual references; a character poses naked for photographs; two descriptions of nudity; two adults engage in sexual activity without explicit details; further sexual activity is implied.
Mature Subject Matter:
Death, Suicide, Marital Infidelity, Racist Views, Divorce.
Alcohol / Drug Use:
Beer is drunk with a meal.
Reviewed By Ailsa