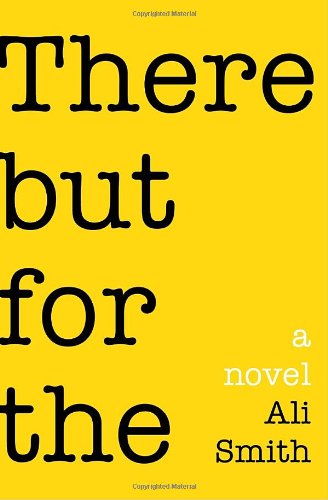 Publisher's Note:
From the award-winning author of Hotel World and The Accidental, a dazzling, funny, and wonderfully exhilarating new novel.

At a dinner party in the posh London suburb of Greenwich, Miles Garth suddenly leaves the table midway through the meal, locks himself in an upstairs room, and refuses to leave. An eclectic group of neighbors and friends slowly gathers around the house, and Miles's story is told from the points of view of four of them: Anna, a woman in her forties; Mark, a man in his sixties; May, a woman in her eighties; and a ten-year-old named Brooke. The thing is, none of these people knows Miles more than slightly. How much is it possible for us to know about a stranger? And what are the consequences of even the most casual, fleeting moments we share every day with one another?

Brilliantly audacious, disarmingly playful, and full of Smith's trademark wit and puns, There but for the is a deft exploration of the human need for separation—from our pasts and from one another—and the redemptive possibilities for connection. It is a tour de force by one of our finest writers.
There but for the
by Ali Smith
Overall Review:
There but for the by Ali Smith opens with a London couple hosting a dinner party. Between the main course and dessert, one of their guests, a man they have only just met, goes upstairs and silently locks himself in the spare bedroom. He leaves a short note outside the door, "Fine for water but will need food soon. Vegetarian, as you know. Thank you for your patience", otherwise he gives no reason for his actions.
This one act of defiance of social norms has an increasingly large ripple effect as his unwanted residence continues. With a web of beautifully drawn characters, all connected however tenuously to this one man, the story slowly unfolds. From Brooke Bayoude, a 9 year old "cleverist", to 94 year old May Young, each of Smith's characters has a genuine and engaging voice.
If you like novels with a hard, fast plot then this perhaps this isn't for you, but I strongly urge you to give this quiet masterpiece a chance. With its clever wordplay and philosophical challenges, this is a novel to savor and think about.
Content Analysis:
Profanity/Language: 18 religious exclamations; 4 mild obscenities; 2 religious profanities; 2 scatological words; 2 anatomical terms. 14 F-word derivatives.
Violence/Gore: Second hand reports of death by natural means and illness; death of a child; several reports of violence in the past from stories and newspaper reports; report of a suicide; child abuse suggested (no details); a teacher bullies a pupil and grabs her arm roughly.
Sex/Nudity: A character talks about masturbation; two men kiss; youthful sexual relations are remembered by an old woman (no details); two adults have an extra-marital affair (some descriptions of nudity).
Mature Subject Matter:
Death, Illness, Suicide, Infidelity, Separation, Homosexuality, Homophobic views.
Alcohol / Drug Use:
Adults drink wine with dinner. Adults and a teenager smoke.
Reviewed By Ailsa