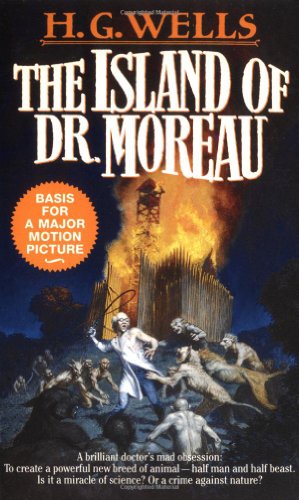 Publisher's Note:
After a collision between two ships in rough seas, a "private gentlemen"--the wreck's sole survivor--languished for eight days under a merciless sun. With neither food to eat nor water to drink, death seemed a certainty. But miraculously, Edward Prendick survived.

Yet what he was to encounter in the days ahead was more horrible and terrifying than any death he could ever have imagined. For the island on which he landed was the home of the infamous Dr. Moreau.

Exiled from England because of his gruesome experiments in vivisection, Moreau has taken up residence in this remote paradise in order to continue his work. His goal: To create a new, superior race of beings! His legacy, however, would prove to be a nightmare beyond comprehension...
The Island of Dr. Moreau
by H.G. Wells
Overall Review:
The Island of Dr. Moreau by H.G. Wells is a chilling and thought-provoking tale. It addresses a surprising range of issues and philosophies. The story itself is already strange and perhaps creepy at times. Exploring some of human nature and the capabilities of science has never been as interesting as it is in The Island of Dr. Moreau. Of course science fiction fans will love this book, but people who like to think about and analyze their literature will also enjoy puzzling over this novel and its meaning. The Island of Dr. Moreau is truly one of H.G. Wells' greatest works, and it won't be forgotten any time soon.
Content Analysis:
Profanity/Language: 4 religious exclamations; 9 mild obscenities; 1 religious profanity; and 13 anatomical terms.
Violence/Gore: Several threats; several fight scenes involving fists, guns, axes, and monsters resulting in death and injury, with some detail; several reports of violent death and horrors; much of the novel carries an eerie tone to it that can be considered scary.
Sex/Nudity: None
Mature Subject Matter:
Use of science, experimentation on animals, religion, human nature.
Alcohol / Drug Use:
Some characters drink and smoke.
Reviewed By Jackson