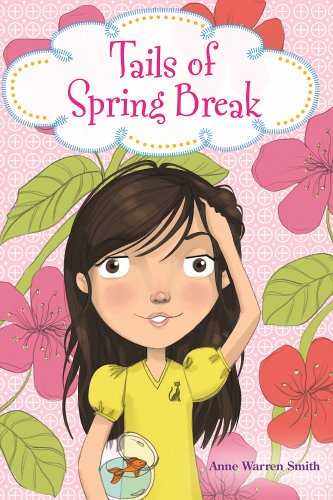 Publisher's Note:
Everyone, it seems, is going somewhere fun for spring break-everyone except Katie Jordan and her family. Even her best friend, Sierra, is going to Hawaii! But then Katie realizes she's not the only one being left behind-what about all those poor lonely pets? And so Katie sets out to save her spring break with a pet-sitting business. But Katie hadn't bargained on having a business partner-especially not someone as awful as Claire Plummer! Before they know it, they have a moody cat, an excitable dog, and dozens of fish to look after together. But do the two girls have more in common than they realized?
This book was sent to Compass Book Ratings for review by Albert Whitman & Co.
Tails of Spring Break
by Anne Warren Smith
Overall Review:
I had supposed that TAILS OF SPRING BREAK, the second book in the Katie Jordan series by Anne Warren Smith, would evolve around a young girl and her exciting adventures on spring break. However, it was far more engaging than that and the first word in the title should have tipped me off that this was not an ordinary spring break story. Not only does the main character Katie have to stay home while her best friend leaves, she must play host to "Miss Perfect" Claire Plummer who will be staying at Katie's house and in Katie's very own bedroom for the entire week of spring break. Add in Katie's wild idea to take care of pets during the break, and it would be an understatement to say all kinds of chaos and crises develop.
As the reader, you will laugh at Katie and Claire's predicaments with each other and the pet care business; but you will also respond to Ann Warren Smith's ability to deal with important lessons for readers of this level. Two of her themes that work well in the novel are: 1) we all suffer different kinds of losses of things we love and it is "...okay to love something that might die" and 2) friends don't always come packaged the way we want.
Ms. Smith's style is direct and straightforward. It would make a very entertaining read-aloud especially for girls. The third book in this series, BITTERSWEET SUMMER, will be coming out in March 2013. Also, there is a brief biography about the author in the back of the book which gives readers a more complete idea of the writer.
Content Analysis:
Profanity/Language: None
Violence/Gore: None
Sex/Nudity: None
Mature Subject Matter:
Death: one family member and a pet; Family/Personal crisis: abandonment
Alcohol / Drug Use:
None
Reviewed By Marilyn