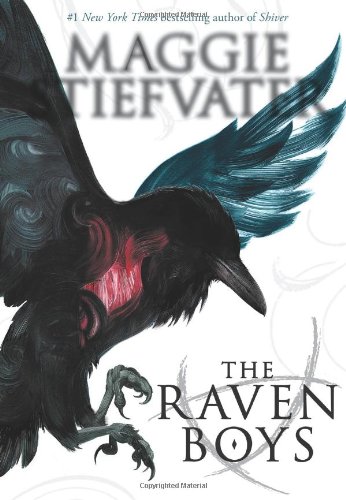 Publisher's Note:
An all-new series from the masterful, #1 New York Times bestselling author Maggie Stiefvater!

"There are only two reasons a non-seer would see a spirit on St. Mark's Eve," Neeve said. "Either you're his true love . . . or you killed him."

It is freezing in the churchyard, even before the dead arrive.
Every year, Blue Sargent stands next to her clairvoyant mother as the soon-to-be dead walk past. Blue herself never sees them-not until this year, when a boy emerges from the dark and speaks directly to her.

His name is Gansey, and Blue soon discovers that he is a rich student at Aglionby, the local private school. Blue has a policy of staying away from Aglionby boys. Known as Raven Boys, they can only mean trouble.

But Blue is drawn to Gansey, in a way she can't entirely explain. He has it all-family money, good looks, devoted friends-but he's looking for much more than that. He is on a quest that has encompassed three other Raven Boys.
The Raven Boys
by Maggie Stiefvater
Overall Review:
With The Raven Boys by Maggie Stiefvater, Stiefvater further solidifies her reputation as one of the quality writers for young adult fiction and demonstrates that she is not a one-trick pony. Stiefvater's previous books include the Shiver series and last year's award-winning The Scorpio Races. Each of these books varies from the others in plot, characters, and style, but the quality of writing is consistent across all.
Frankly, The Scorpio Races was captivating and brilliant; it is challenging to follow-up with another novel and not come up short in comparison. So it is not too surprising that The Raven Boys doesn't rise to the same level. The characters are intricate and unusual, dialogue is dynamic, and the writing is artful, but the magic isn't quite there.
The first half of the book is devoted to the introduction of characters, their motivations, and relationships--all of which are detailed, complex, unique, and multi-dimensional. It isn't until the latter half of the book that the plot truly gets underway and some momentum is attained. The books is less traditional fantasy quest and more paranormal/supernatural with a set-up for a future love story plot. The Raven Boys is the first book in a planned series and it doesn't resolve a lot of plot points, but neither does it end in a cliff-hanger; the book feels mostly like exposition and set-up for the rest of the series. The plot, premise, themes, and characters didn't captivate this reviewer, but Stiefvater's writing is always excellent so there aren't a lot of complaints.
Content Analysis:
Profanity/Language: 19 religious exclamations; 18 mild obscenities; 2 religious profanities; 7 derogatory names; 15 scatological words; 9 anatomical terms, 7 F-word derivatives.
Violence/Gore: Memory of a death many years ago; a scary/scene involving a ritual with a pentacle and some kind of possession; report of hornet stings; extended scene involving a ritual, threats, and a physical struggle; scene in which a character is trampled to death by animals, few details; attempted murder resulting in a struggle and shots fired; extended scene in which a child is hit by parent and other characters then have a violent physical confrontation, a few details and mention of blood; child is physically abused by parent; report of death from beating with a tire iron; fist fight between brothers with mention of blood; physical remains of a human discovered.
Sex/Nudity: Reference/report of out of wedlock pregnancy/birth; some jokes and innuendo; reference to "calendars of topless women"; reference to prostitute; a character is called a "man-whore"; implied that character is after another character's "virtue"; passing reference to gentleman escort company; reference to "sons of mistresses".
Mature Subject Matter:
Paranormal/Occult/Witches/Psychics (including tarot cards, seances, fortune-telling, rituals, etc.), Murder, Disturbance of Grave Sites, Physical child and spouse abuse, Socioeconomic struggles
Alcohol / Drug Use:
General reference to high school aged boys getting drunk. Adults smoke and drink. A teenager is drunk.
Reviewed By Cindy