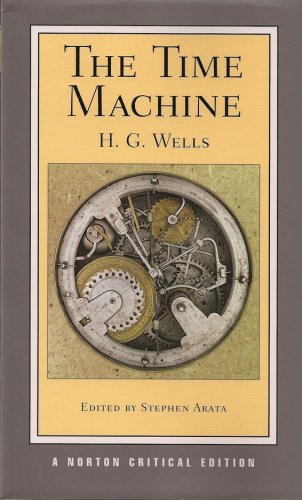 Publisher's Note:
The Time Machine (1895) is H. G. Wells's first published novel as well as his most enduring and influential work.
Intrigued by the possibilities of time travel as a student and inspired as a journalist by the great scientific advances of the Victorian Age, Wells drew on his own scientific publications—on evolution, degeneration, species extinction, geologic time, and biology—in writing The Time Machine. This Norton Critical Edition is based on the first London edition of the novel. It is accompanied by detailed explanatory annotations and "A Note on the Text."
"Backgrounds and Contexts" is organized thematically into four sections: "The Evolution of The Time Machine" presents alternative versions and installments and excerpts of the author's time-travel story; "Wells's Scientific Journalism (1891–94)" focuses on the scientific topics central to the novel; "Wells on The Time Machine" reprints the prefaces to the 1924, 1931, and 1934 editions; and "Scientific and Social Contexts" collects five widely read texts by the Victorian scientists and social critics Edwin Ray Lankester, Thomas Henry Huxley, Benjamin Kidd, William Thomson (Lord Kelvin), and Balfour Stewart and Peter Guthrie Tait.
"Criticism" includes three important early reviews of The Time Machine from the Spectator, the Daily Chronicle, and Pall Mall Magazine as well as eight critical essays that reflect our changing emphases in reading and appreciating this futuristic novel. Contributors include Yevgeny Zamyatin, Bernard Bergonzi, Kathryn Hume, Elaine Showalter, John Huntington, Paul A. Cantor and Peter Hufnagel, Colin Manlove, and Roger Luckhurst.
A Chronology and Selected Bibliography are also included.
The Time Machine
by H.G. Wells
Overall Review:
The Time Machine as a concept alone was revolutionary when H.G. Wells first wrote it, and its charm has not faded over time. Admittedly I am biased. H.G. Wells is one of my favorite authors, but for good reason--he is an excellent author. In The Time Machine Wells weaves a tale of science, adventure, and horror, which contains ideas and concepts which are still as influential today as they were back in the 19th century. In addition to good ideas, Wells' first person narrative flows smoothly and involves the reader in the amazement and horror of the Time Traveler as he explores the future, and the fate of humanity as Wells predicts it. By the end of the novel, one may find himself asking "What if?" All in all, a compelling science fiction classic that everybody should read!
Content Analysis:
Profanity/Language: 4 mild obscenities
Violence/Gore: There are several fights involving fists, fire, and iron bars resulting in severe injury or death. A character almost dies several times as a result of actions of denziens of the future, there are 2 scenes that may be considered scary, and there is a recurring subject of cannibalism. A character expresses the desire to slay certian beasts.
Sex/Nudity: None
Mature Subject Matter:
Communism, cannibalism, class conflict, evolution
Alcohol / Drug Use:
Some characters drink and smoke.
Reviewed By Jackson