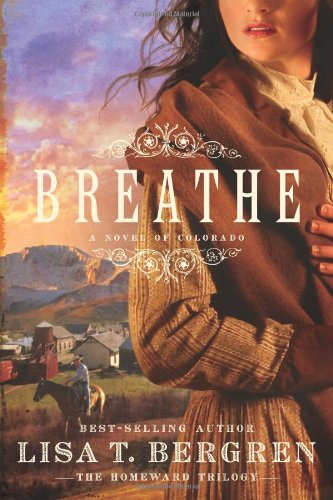 Publisher's Note:
Devastated by the loss of four sons to tuberculosis and his wife in childbirth, a Philadelphia patriarch sends his three living children west in 1883 to make a new life in the clean mountain air of Colorado Springs. Odessa is struggling to survive consumption; Moira is beautiful and dangerously headstrong; and pugnacious Dominic is charged with establishing a new arm of the family business a business he doesn't want. Readers will love The Homeward Trilogy, in which the St. Clair siblings struggle to follow where the heavenly Father leads them.
In Breathe, Odessa arrives at a famous sanitarium seeking a cure for the disease that killed her brothers. While Moira and Nic establish themselves in Colorado Springs society, Dessa inches her way back to health - and into love with a softspoken fellow patient, rancher Bryce McAllan. When she witnesses a murder in the very hospital where she is recuperating-and other patients begin to die, Dessa struggles to breathe again. She'd always expected to die young, but now that she has a reason to live, can she hold on to her fragile health to solve the mystery?
Breathe
by Lisa Tawn Bergren
Overall Review:
Breathe by Lisa Bergren is a picturesque and beautifully set story. Readers familiar with Colorado landscapes will easily imagine and relate to the descriptions. Those less experienced with Colorado may find themselves desiring to take a vacation just to enjoy the scenery.
The storyline features a trio of siblings--each with his or her own challenges. These range from illness to an unquenchable sense of wanderlust. Along the way, a myriad of characters cross the St. Clair family's path for good and for ill.
The book includes evil deceitful people, kind helpful ones, and every sort in between. At the conclusion of the story, only one sibling and her situation seem to be satisfactorily resolved. The fate of many characters remains uncertain. Mercifully, Lisa Bergren, the author, has planned two more books to complete The Homeward Trilogy.
At the conclusion of the novel, it becomes apparent to the readers that the word breathe has not only a physical presence in the story, but carries far greater symbolic meaning. This is a great historical fiction story for any who like the late 19th century era!
Content Analysis:
Profanity/Language: 2 derogatory names.
Violence/Gore: Characters participate in boxing matches; character reported to have killed a child; characters hit others with fists and objects, bloodied lips and such are mentioned; characters threaten to kill other characters; characters grab others; characters shoot at others, some fatalities and pools of blood mentioned; character stabs another with a knife.
Sex/Nudity: Non-married character squeezes the thigh of another; non-married characters attempt kisses, hold hands, kiss hands and touch cheeks; prostitution is mentioned a few times; married characters embrace and kiss and in one scene, sex is implied without details or nudity.
Mature Subject Matter:
Death of friends, spouses and siblings, terminal illness, corruption.
Alcohol / Drug Use:
Characters drink various types of alcohol, most often in a bar.
Reviewed By Susan