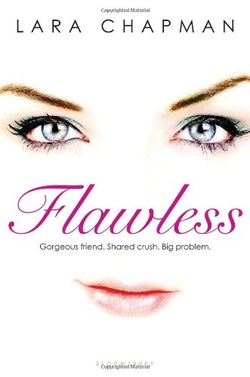 Publisher's Note:
Sarah Burke is just about perfect. She's got killer blue eyes, gorgeous blond hair, and impeccable grades. There's just one tiny-all right, enormous-flaw: her nose. But even that's not so bad. Sarah's got the best best friend and big goals for print journalism fame.

On the first day of senior year, Rock Conway walks into her journalism class and, well, rocks her world. Problem is, her best friend, Kristen, falls for him too. And when Rock and Kristen stand together, it's like Barbie and Ken come to life. So when Kristen begs Sarah to help her nab Rock, Sarah does the only thing a best friend can do-she agrees. For someone so smart, what was she thinking?

This hip retelling of Cyrano de Bergerac is filled with hilariously misguided matchmaking, sweet romance, and a gentle reminder that we should all embrace our flaws.
This book was sent to Compass Book Ratings for review by Bloomsbury Children's Books
Flawless
by Lara Chapman
Overall Review:
What do you see when you look in the mirror? Do you see all your flaws or are you happy with what you look like and who you are? When Sarah looks in the mirror, all she can see is her huge nose. As a matter of fact, her nose gets in the way of her seeing a LOT of things, and as I read this book, the saying "Can't see past the nose on your face" kept coming to mind!

I really enjoyed many aspects of this modern retelling of Cyrano de Bergerac (with a much happier ending, I might add). The quotes about beauty proceeding each chapter are all lovely, and the many allusions to great literature keeps the novel itself from being too shallow (it is, after all, in a high school setting)! The message about the importance of being yourself is a much needed theme; Lara Chapman's writing is fast paced and engrossing. She does a great job of mixing together a fairly heavy theme with classic literary elements and modern settings that make it very accessible to high schoolers.

Sarah is a beautiful character—flawed, yes, and because of that, she's easy to identify with. Her best friend, Kristen, is also a lovely character. She's blonde, beautiful, and absolutely clueless! There were times I wanted to shake her and knock some sense into her! How could she NOT see that her best friend was in love with her boyfriend…or that having her best friend pretend to be her was NOT a good idea?!? The two of them together were hilariously funny, and as they befriend Rock, the hot new guy in school, things just spiral out of control. All of the characters are very well developed, and it was fun to follow them around. It was lovely watching Sarah develop and learn that it's really ok to say no—and also to watch Kristen realize that it's ok to be told no! Through these two unlikely friends, we learn that perhaps there are more important things in life than having the hottest boyfriend or researching the latest rhinoplasty surgeon--and that there is no such thing as a flawless person!
Content Analysis:
There is quite a bit of profanity sprinkled throughout this book. I would say there is one word every other page on average.
There is no violence, but there is quite a bit of mild to moderate sexual content. There are innuendoes, both in word and thought, throughout. There are many instances of girls 'leaning in' to show themselves off to better advantage. A character is accused of being a lesbian. There is some kissing, thoughts of kissing , and 'kiss-n-tell' instances. There are talks about virgins, bras, how clothes fit (or not), etc. A character discusses another's choice of artificial insemination.
Mature Subject Matter:
There are mild themes, such as coming to accept yourself for who you are, focusing on looks vs what's on the inside, the importance of friendship, making difficult decisions, and honesty (i.e. pretending to be someone you're not to help someone else—is it honest? How far should it go?). There are also the more moderate themes of high school dating/relationships, the necessity (or not) of cosmetic surgery, hurting others in order to help yourself, and the ethics and ambiguity of friendship (what lengths we go to help a friend). Being set in high school, I'm sure it is much cleaner than a real high school hallway! This is definitely aimed toward the young adult age groups.
Alcohol / Drug Use:
***
Reviewed By Emily