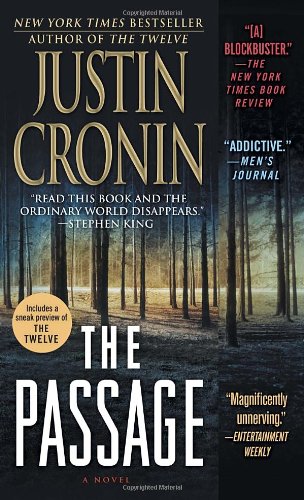 Publisher's Note:
An epic and gripping tale of catastrophe and survival, The Passage is the story of Amy—abandoned by her mother at the age of six, pursued and then imprisoned by the shadowy figures behind a government experiment of apocalyptic proportions. But Special Agent Brad Wolgast, the lawman sent to track her down, is disarmed by the curiously quiet girl and risks everything to save her. As the experiment goes nightmarishly wrong, Wolgast secures her escape—but he can't stop society's collapse. And as Amy walks alone, across miles and decades, into a future dark with violence and despair, she is filled with the mysterious and terrifying knowledge that only she has the power to save the ruined world.
This book was sent to Compass Book Ratings for review by Ballantine Books
The Passage
by Justin Cronin
Overall Review:
These days, stories about the end of the world are quite popular. So are vampires, virus epidemics, and government conspiracies. The Passage by Justin Cronin combines all of the above mentioned story lines into a very entertaining and addicting action-packed story. The fast-paced action combined with the deep characters form a story that will not release the reader until the last page is finished and you are looking up on the internet when and how to get the next book.
The Passage is not an ordinary tale about the struggles of the human race's survival after a government experiment goes horribly wrong and reduces the human population to small fraction of what it once was; Cronin adds a level of realism and character depth that lets the reader relate to the characters and their lives. From the beginning characters are given life as the author produces a story that is fast paced, full of adventure, surprises, and drama.
Cronin's is descriptive in his writing and does not leave a lot to be imagined. Some of the extended action scenes are very graphic and read almost like a scene from a movie. In developing characters, the writer delves into some ugly parts of modern society--prostitution, child abuse, and rape are not off limits. This realism makes for interesting characters but may be too graphic for some. Fans of Steven King will enjoy this book and I recommend it, to the intended audience of course.
Content Analysis:
Language/Profanity: 21 Religious exclamations; 42 mild obscenities; 58 religious profanities; 22 derogatory names; 25 scatological words; 9 anatomical terms; 59 F-word derivatives.
Violence/Gore: Several extended scenes of blood and gore, vampire like creatures kill indiscriminately (men, women, children) usually involving ripping victims apart with their bare hands, some are drained of blood and transformed into the same creature; blood and gore also extends to how the humans fight the vampires, several scenes involving guns, knives, bow and arrow, explosives, flame throwers, nuclear weapons - all blood and gore scenes are very graphic in detail. In building the back story of characters the author has included spousal abuse, child abuse, rape, murder, and drug use. These scenes are not very descriptive but are alluded to and referenced throughout the book.
Sex/Nudity: Several implied sexual encounters with adult characters; discussions about "pairing off" essentially who will marry and breed; teen pregnancy caused by an older man; character was raped as a child, non-graphic in nature but mentioned several times; character becomes a prostitute, non-descriptive sex acts; sexual dreams are alluded too, one is described but not graphic; several accounts of romantic courtship/dating that leads to non-descriptive sexual encounters.
Mature Subject Matter:
Suicide, physical abuse, sexual assault of women and children, war, murder, death of family, death of children, nuclear war, terrorism, racism, prostitution, alcoholism, medical experimentions, biological warfare, slavery, anarchy.
Alcohol / Drug Use:
Some characters use drugs to commit suicide; characters make and consume moonshine; characters smoke cigarettes.
Reviewed By Matthew