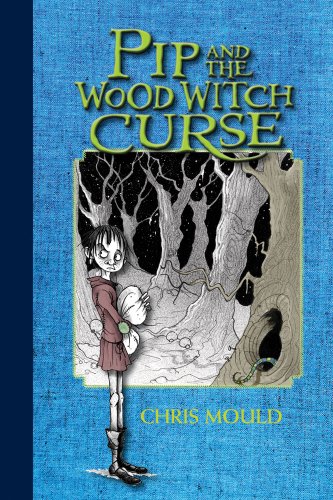 Publisher's Note:
Dark, scary, and magnificently illustrated, this is a new series not to be missed! The great walled city of Hangman's Hollow is at war with the forest outside. Into this war, one dreadful night, fate delivers a skinny, helpless boy. But maybe Pip isn't as helpless as he seems. Maybe he is the one who will defeat the wood witches and rescue the children of Hangman's Hollow.
This book was sent to Compass Book Ratings for review by Albert Whitman & Co.
Pip and the Wood Witch Curse
by Chris Mould
Overall Review:
After having read Chris Mould's children's book PIP AND THE WOOD WITCH CURSE, I have to say that I loved the book. There are so many things good about it, I probably could go on and on but will limit this review to a few main points. As the reader, you will find yourself totally liking Pip, a runaway orphan who unexpectedly finds himself in Hangsman's Hollow. It is an eerie place especially when Pip discovers that all the children are missing except for Toad who has been hidden away for safekeeping.
Contributing to the ominous tone of the book are the deliciously wicked villains. I especially liked Master Jasper and the witches who swoop around the Hollow on the lookout for children to capture for their evil purposes. Mr. Mould has used his artistic ability to complete his characters. Pip's drawn image fits a boy who hasn't had a lot of breaks but yet is appealing in a whimsical way. Mr. Jarvis is creepy right down to the hook on his left hand and the scar on his face.
The writing style is direct and without frills, so it moves right along. Mr. Mound uses the chapter headings to fire your interest in what comes next. It fits his writing style--direct and getting the most out of something seemingly ordinary. As with all good series, there are unresolved issues at the end of the first book, i.e. where are all the children and the strange wooden soldier. But there is good news. PIP AND THE WOOD WITCH CURSE is the first book in the Spindlewood Series. So far there are three books in the series and the second one comes out in March. Can't wait!
Content Analysis:
Profanity/Language: None
Violence/Gore: A few frightening scenes with witches flying around and one incident with two children kidnapped.
Sex/Nudity: None
Mature Subject Matter:
None
Alcohol / Drug Use:
None
Reviewed By Marilyn