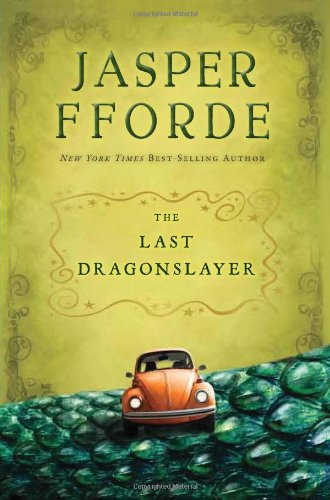 Publisher's Note:
In the good old days, magic was indispensable—it could both save a kingdom and clear a clogged drain. But now magic is fading: drain cleaner is cheaper than a spell, and magic carpets are used for pizza delivery. Fifteen-year-old foundling Jennifer Strange runs Kazam, an employment agency for magicians—but it's hard to stay in business when magic is drying up. And then the visions start, predicting the death of the world's last dragon at the hands of an unnamed Dragonslayer. If the visions are true, everything will change for Kazam—and for Jennifer. Because something is coming. Something known as . . . Big Magic.
The Last Dragonslayer
by Jasper Fforde
Overall Review:
The Last Dragonslayer by Jasper Fforde is probably the best piece of middle grade fantasy I have read in a long time. Fforde plunges the reader into a world very similar to our own, but filled with magic, kingdoms, and, of course, dragons,--along with the normal corporate greed and political problems. An extremely amusing novel, The Last Dragonslayer manages to balance humor, plot, and tugging the heartstrings effectively to create an absorbing blend. In addition to this, The Last Dragonslayer also has one of my favorite covers of all time: an orange VW Bug and a dragon's tail! It's hard not to like this novel, and adults will enjoy it, too, because of the interesting politics, the issues faced by the main character, Fforde's fantasy world that parallels our own, and its ecological message. An exciting book--I cannot wait for the next one!
Content Analysis:
Profanity/Language: 1 mild obscenity.
Violence/Gore: A character threatens to kill another; 2 reports of violence; 1 instance of destruction of property without casulties; 2 non-detailed scenes of violent death.
Sex/Nudity: None
Mature Subject Matter:
Life, Death, Orphans, War, Corrupt Governments, Ecological Issues, Fame.
Alcohol / Drug Use:
None
Reviewed By Jackson