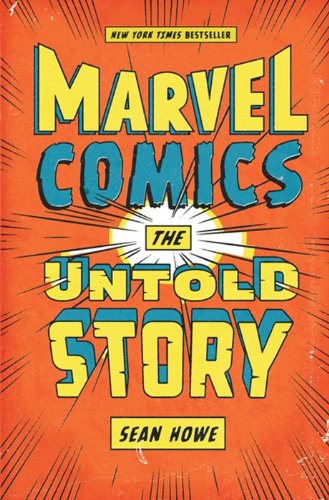 Publisher's Note:
An unvarnished, unauthorized, behind-the-scenes account of one of the most dominant pop cultural forces in contemporary America.
Operating out of a tiny office on Madison Avenue in the early 1960s, a struggling company called Marvel Comics presented a cast of brightly costumed characters distinguished by smart banter and compellingly human flaws. Spider-Man, the Fantastic Four, Captain America, the Incredible Hulk, the Avengers, Iron Man, Thor, the X-Men, Daredevil—these superheroes quickly won children's hearts and sparked the imaginations of pop artists, public intellectuals, and campus radicals. Over the course of a half century, Marvel's epic universe would become the most elaborate fictional narrative in history and serve as a modern American mythology for millions of readers.
Throughout this decades-long journey to becoming a multibillion-dollar enterprise, Marvel's identity has continually shifted, careening between scrappy underdog and corporate behemoth. As the company has weathered Wall Street machinations, Hollywood failures, and the collapse of the comic book market, its characters have been passed along among generations of editors, artists, and writers—also known as the celebrated Marvel "Bullpen." Entrusted to carry on tradition, Marvel's contributors—impoverished child prodigies, hallucinating peaceniks, and mercenary careerists among them—struggled with commercial mandates, a fickle audience, and, over matters of credit and control, one another.
For the first time, Marvel Comics reveals the outsized personalities behind the scenes, including Martin Goodman, the self-made publisher who forayed into comics after a get-rich-quick tip in 1939; Stan Lee, the energetic editor who would shepherd the company through thick and thin for decades; and Jack Kirby, the World War II veteran who'd co-created Captain America in 1940 and, twenty years later, developed with Lee the bulk of the company's marquee characters in a three-year frenzy of creativity that would be the grounds for future legal battles and endless debates.
Drawing on more than one hundred original interviews with Marvel insiders then and now, Marvel Comics is a story of fertile imaginations, lifelong friendships, action-packed fistfights, reformed criminals, unlikely alliances, and third-act betrayals—a narrative of one of the most extraordinary, beloved, and beleaguered pop cultural entities in America's history.
Marvel Comics: The Untold Story
by Sean Howe
Overall Review:
Marvel Comics is an extremely well done and thoroughly researched nonfiction account. Howe makes sure to include quotes and points of view from every angle and person possible, and does an excellent job of incorporating them. The story of Marvel Comics is a long and fascinating one. The most interesting aspect of the whole novel is that it shows the rise and fall of an industry and an art, and how Marvel was influenced by the culture of its time. Now, I wouldn't recommend this book to somebody with only a passing interest in Marvel Comics--at over 400 pages it's a thick tome. However, this is necessary because of the great amount of detail included that paints the portrait of the Marvel Bullpen and its conflicts. The best parts are where the stories and characters of Marvel Comics are being discussed. However, it drags a bit when legal issues are being documented, but that is always the case with legal issues. Overall, an excellent piece of nonfiction for any Marvel Fan's library!
Content Analysis:
Profanity/Language: 6 religious exclamations, 30 mild obscenities, 4 religious profanities, 5 derogatory names, 14 scatological words, 13 anatomical terms, 23 f-word derivatives.
Violence/Gore: Documents some mild threats, records a few instances of graphic violence in comics.
Sex/Nudity: Some cartoonists draw nudity on several occasions; refers to sex in comic books; one quote about a person wanting to have sex; a sexual reference.
Mature Subject Matter:
Violence and sex in comics, alcohol, drugs, legal problems
Alcohol / Drug Use:
Lots of drugs; some artists get sent free joints in the mail or get high to find inspiration; artists used drugs including alcohol, acid, and marijuana.
Reviewed By Jackson