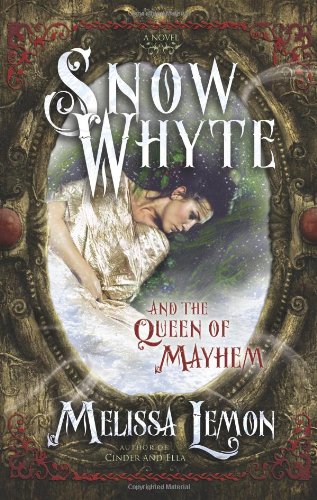 Publisher's Note:
Stuck in her family's apple orchards, Kat's got plenty of work to do and only pesky Jeremy to help. But when Jeremy convinces her to run away, Kat will discover that nothing---and no one---in her life is quite what it seems. Wonderfully reimagined, this is the magical tale of Snow White as you've never read it before.
This book was sent to Compass Book Ratings for review by Cedar Fort
Snow Whyte and the Queen of Mayhem
by Melissa Lemon
Overall Review:
Melissa Lemon does it again with another magnificent twist on a classic fairytale. Her take on Cinderella in Cinder and Ella was quite enjoyable, but I liked her version of Snow White even more. All the usual characters can be found in the story, but their roles, in most cases, are dramatically different. There are also a few new and complex characters who add to the fun. The suspense keeps the pages turning and when all the mysteries are solved, you find several interesting surprises. The ending kind of snuck up on me with a quick wrap-up, which normally makes the plot feel awkward, but while a lot of explanations were saved for the very end, it was actually done with perfect timing for this particular story. I love the interpretation of an excellent fairytale and highly recommend Snow Whyte and the Queen of Mayhem!
Content Analysis:
Profanity/Language: ***
Violence/Gore: Many (25) brief instances with very little detail including child neglect; mother attempting to murder her child; war, murders and torture mentioned; mother dying during childbirth; character dies; fake fighting; brief physical abuse; characters murdered.
Sex/Nudity: Several (14) brief instances including kissing; holding hands; hugging; touching face & hand; infidelity mentioned.
Mature Subject Matter:
Slavery, Child Neglect, Physical Abuse, Parent having to leave child, Parental abandonment of children due to physical disabilities, Death of a parent.
Alcohol / Drug Use:
Character frequently drunk; character being offered wine; character smelled of wine.
Reviewed By Jenny