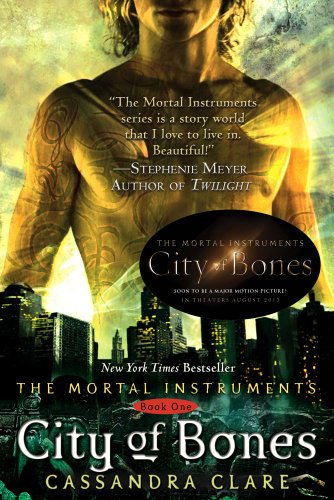 Publisher's Note:
Don't miss The Mortal Instruments: City of Bones, soon to be a major motion picture in theaters August 2013.
When fifteen-year-old Clary Fray heads out to the Pandemonium Club in New York City, she hardly expects to witness a murder—much less a murder committed by three teenagers covered with strange tattoos and brandishing bizarre weapons. Then the body disappears into thin air. It's hard to call the police when the murderers are invisible to everyone else and when there is nothing—not even a smear of blood—to show that a boy has died. Or was he a boy?
This is Clary's first meeting with the Shadowhunters, warriors dedicated to ridding the earth of demons. It's also her first encounter with Jace, a Shadowhunter who looks a little like an angel and acts a lot like a jerk. Within twenty-four hours Clary is pulled into Jace's world with a vengeance, when her mother disappears and Clary herself is attacked by a demon. But why would demons be interested in ordinary mundanes like Clary and her mother? And how did Clary suddenly get the Sight? The Shadowhunters would like to know. . . .
Exotic and gritty, exhilarating and utterly gripping, Cassandra Clare's ferociously entertaining fantasy takes readers on a wild ride that they will never want to end.
City of Bones
by Cassandra Clare
Overall Review:
City of Bones is an exciting escape! I was immediately drawn in to the story, and quickly came to like the characters very much. This book had me on the edge of my seat several times, and the scary scenes are truly, intensely frightening without gratuitous gore.
The world Clare has created is unique, and the story had me thinking more than once about whether or not it could be real. Using some aspects of time-honored legends, Clare puts a new twist on the supernatural that's absolutely believable. She also adds a subtle element of the spiritual to her story. I was happy to note that she does not glamourize dark magic or anything evil.
I expected this book to be a lot more violent and edgy than it was--instead, it was deliciously creepy without crossing any lines. (Descriptions merely serve to get the point across without causing the reader to feel like they're being told too much.) A very quick read--only because I couldn't put it down! I'm eagerly anticipating the next book in the series.
Content Analysis:
Profanity/Language: 16 religious exclamations; 15 mild obscenities; 2 religious profanities; 9 derogatory names; 6 scatological words; 8 anatomical terms.
Violence/Gore: Several characters sustain minor injuries (cuts, bruises, etc.) in a variety of fights with monsters; several non-human characters are killed; characters are repeatedly attacked by monsters; a character hears a second hand story of murders; characters are attacked by animals and sustain minor injuries; a character hears a brief second hand account of a brutal killing; a character threatens another character; a character is seriously injured in an extended fight (5 pages) with some gore; a character fights and kills a non-human character in an extended scene (5 pages) with little gore; a character very briefly remembers brutal and gory scenes of war; characters engage in a brutal fight with vampires in an extended scene (7 pages) with little gore.
Sex/Nudity: A character flirts repeatedly; a character dances sensuously; homosexuality is discussed; a character is accused of wanting to have sex; a male and female character lay on a bed talking with no sexual contact; two characters kiss; a reference is made to "second base," allusions are made to sex, cross-dressing, and an orgy.
Mature Subject Matter:
Death of family members; kidnapping of family member; homosexuality.
Alcohol / Drug Use:
A character is drugged while being held in captivity; characters visit a night club where others are using ecstasy and smoking clove cigarettes; brief underage drinking; an adult character gets drunk.
Reviewed By Leslie