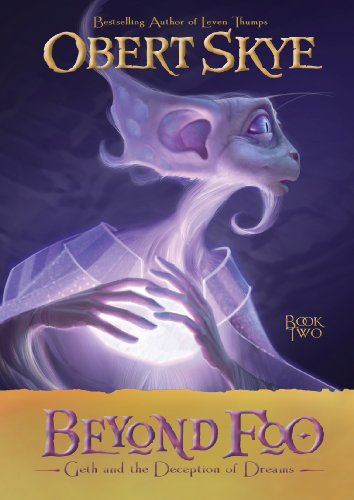 Publisher's Note:
Beyond the borders of Foo lies the land of Zendor a place where dreams are held captive with little thought for hope. Clover and Geth are determined to change that. Fleeing from Pencilbottom Castle, Clover, Geth, and their allies must find the wise Lars, who may have the answer to save Zendor and return dreams to Foo. As a brave Lithen once said, Do what you fear most, and the death of fear is certain. This is book 2 of a pageturning trilogy for readers ages 8 through 12.
This book was sent to Compass Book Ratings for review by Shadow Mountain
Geth and the Deception of Dreams
by Obert Skye
Overall Review:
In Obert Skye's second installment of the land beyond Foo, Geth and the Deception of Dreams, we continue our journey right where we left off. Geth has just freed his brother from the prison where he's been held captive for years, only to find that his brother has no intention of being 'saved'! He puts up a pretty serious fight to get back into the 'safety' of his prison and makes life very difficult for Geth and Clover.
At first, Geth just wants to get Zale (his brother) back to Foo and leave Zendor, but then he feels that he needs to defeat Payt and free Zendor from Payt's evil grip. Geth tries over and over again to ignite some spark into the Dreams (Foo and Zendor are the places where the people in your dreams go after you've woken up. You didn't think they disappeared, did you? Oh no, they live on!) and rally them together in order to defeat Payt and have a free land once again. The main problem is that the Dreams don't really want to be rallied. They want to stay hidden. This never dampens Geth, though. He is determined, and that determination leads to a novel full of non-stop action!
There are a few things to be aware of when reading this novel. First of all, the absolute best parts are the first paragraphs of each chapter! The narrator is beyond hilarious as he randomly introduces each chapter with seemingly obscure anecdotes. I laughed out loud at each of them, and read many to my ten year old son who chuckled right along with me.
The next thing you need to know, is that this is not a stand-alone book. It is the second in a series and in order to enjoy it, you must read the first. This series is an off-shoot from an entirely different series (Leven Thumps by the same author) and I would also recommend reading that even before reading these. You won't be disappointed--they are great fun (and perfect for those boys in your life who just don't really want to read)!
The last thing that you should probably be warned about: The ending is quite the cliff-hanger!! Honestly, the suspense is killing me!
If you are a fan of Leven Thumps, Geth, or just Obert Skye in general, you'll enjoy this newest installment to the land of Foo. I recommend Obert Skye books as great reads for young people.
Content Analysis:
Profanity/Language: ***
Violence/Gore: Characters are chased/attacked by frightening creatures; Evil character often attacks other characters--tries to kill them or change them magically into other creatures; characters are shot at by flaming arrows; characters fall down a large hole; 2 characters fight each other a few times (5 extended scenes--4 of them are 2 pages long, one is 3 pages); A 5 page extended fight scene between many creatures (kicking, hitting, punching, sword fighting, strangling, etc.); a character tries to drown another character to prove a point; mysterious smoke kills many characters; evil creatures are ordered to strangle a group of people--6 of them die; a character punches another a few times; a character admits to having killed many people; a character threatens to kill a group of people; a 2 page extended fight scene--a character is stabbed by a fork, there is punching a kicking, and one character is pushed off the edge of a high place and dies; a character is trapped in a very small place and left to die (very frightening).

Sex/Nudity: A group of characters flirt (or try to flirt) with another character a few times.
Mature Subject Matter:
Death, Murder, Betrayal, Evil
Alcohol / Drug Use:
***
Reviewed By Emily