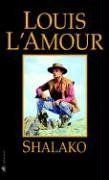 Publisher's Note:
He rode wild country with wilder men. He was a loner who owned nothing but his horse and saddle-and his guns. He was a man willing to gamble his life to get the woman he wanted... He was Shalako.
Shalako
by Louis L'Amour
Overall Review:
Shalako was an intense surprise to me. It is one of the few novels in which L'Amour steps outside of the Western Romantic style to write an involving and exciting piece of fiction with a great deal of historical aspects in it. Occurring during the time of the Indian wars, Shalako pits a lone wanderer and a hunting party gone wrong against raiding Apache Indians. What was exciting about this novel, that while the characters were all engaging--especially the mysterious Shalako, it was also partially about the culture of the Apache Indians and how they viewed warfare. To my knowledge, the content related to the Apaches' view of warfare has some basis in fact, and gives the reader an idea of why the Apaches earned their reputation as some of the most feared warriors of their time, and may cause some readers to cringe at some of the descriptions. An excellent work, adrenaline-packed work with an epic ending by Louis L'Amour!
Content Analysis:
Profanity/Language: 1 religeous profanity,17 mild obscenities
Violence/Gore: Several threats; several non-life threatening injuries; 7+ instances of violence involving guns, knives, and bows; several battle scenes with Apache Indians that could be considered frightening; several non-detailed scenes of violent death; several reports of torture; several instances of blood and gore; 2 instances of intense violence.
Sex/nudity: None
Mature Subject Matter:
Warfare, Death.
Alcohol / Drug Use:
Several characters smoke.
Reviewed By Jackson