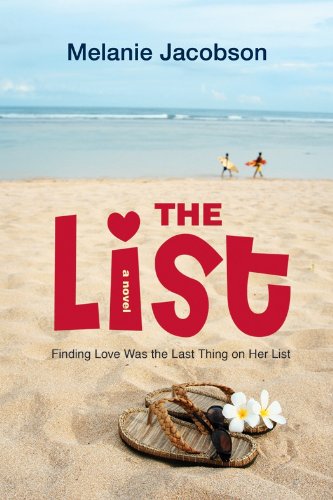 Publisher's Note:
Ashley Barrett doesn't want to get married. At least, not anytime soon. She doesn't care how many of her friends and family members and fellow churchgoers had weddings before they finished college--the last thing she needs in her fun-loving twenties is the deadweight of some guy. And that's why she created The List. By the time she completes all twenty-five goals--from learning a language to skydiving to perfecting the art of making sushi--she'll be more ready to settle down. Maybe. This summer in California is a prime time for Ashley to cross two items off the list: learn to surf (#13) and have a summer romance (#17). And Matt Gibson, the best surf instructor in Huntington Beach and the most wanted guy in the singles ward, is the perfect man for the job. Ashley hatches a plan to love him and leave him before heading off to grad school in the fall (#4, get a master's degree). But when Matt decides he doesn't like the "leaving" part, Ashley's carefully laid plans are turned sideways. Now Ashley faces an unexpected dilemma: should she stick to the safety of The List, or risk everything for a love that may tie her down--or might set her free?
This book was sent to Compass Book Ratings for review by Covenant Communications
The List
by Melanie Jacobson
Overall Review:
Ashley is an independent woman who doesn't want to be chained down by marriage before she has a chance to have fun. She wants to climb a mountain, see a Broadway show, visit Europe, take a cruise, and twenty-one other things. It is all written down on a list she made when she was eighteen. Some people might wish they could do these, but for Ashley the word "wish" doesn't exist. The things on her list are commandments. If the list says it, she has to do it, even if she thinks singing karaoke was a really bad idea and ends up running terrified when she tries.
Ashley isn't trying to let Matt into her life permanently, but somehow he finds a way to help her cross not one, but seven items off of her list. The only problem is that she never told him what was on her list.
Melanie Jacobson has crafted a wonderful novel full of laughs, smiles, and good old-fashioned fun. Anyone old enough to handle reading about two people smooching and who secretly wonders what it would be like to jump out of a plane is sure to enjoy The List!
Content Analysis:
Profanity/Language: None
Violence/Gore: A woman gets stung by a stingray; a woman crashes on surf board and hits her head.
Sex/Nudity: Several kisses; hand holding.
Mature Subject Matter:
Divorce, early marriage, religious conflict.
Alcohol / Drug Use:
Two adults go to a bar to sing karaoke.
Reviewed By Megan