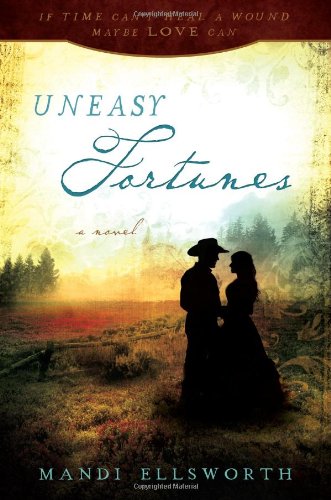 Publisher's Note:
Battered by his past, Pete knows he has no business falling for anyone. But when time can't heal a wound, love steps in to make it right. Inspired by a true story of the post Civil War South, this gentle rustic romance will pull you in from the first page and leave you with a renewed hope in the power of real love.
This book was sent to Compass Book Ratings for review by Sweetwater Books
Uneasy Fortunes
by Mandi Ellsworth
Overall Review:
Is it wrong to be disappointed when evil characters don't receive harsher treatment or the main characters pass up opportunities to justifiably kill them? If so, then this might not be the best book for folks with a passionate sense of mortal justice. While this does not reflect the Christian attitude many of the characters are attempting to live, it sure describes sentiment felt during this reading. The story itself shows characters choosing the higher moral ground and while this is truly the better way, it still left something of an unsatisfied feeling. The plot does not wax overly preachy or delve into religious doctrines, but merely supports the idea of morality and virtue.
Pete Faralay, the main character, is a hero worthy of anyone's admiration. In fact, most of the other characters seemed to take a major backseat to his shining character. Oddly enough, his character accomplishes this without any designs on his part and that is another great attraction of his character. There are some interesting characters sprinkled in with a mix of trouble, but the real attraction is Pete.
The actual storyline is nothing especially unique. A character escaping his past comes to a ranch and ends up involved with the owner's daughter. The latter half of the book seems to lag just a bit as the author attempts to explore the physical relationship between two married characters. It could have been achieved more concisely and without the same level of detail for each occurrence.
Although the title Uneasy Fortunes does not seem to really fit the story, the characters seem to fit the story. Mandi Ellsworth, the author, has tackled many heavy subjects and yet she managed to create an enjoyable and sometimes light-hearted story that neatly ties up all lose ends. Romantics at heart will find this a rewarding book.
Content Analysis:
Profanity/Language: 3 derogatory names.
Violence/Gore: Character kills another; character killed by an animal, blood drips from wound; characters slap, punch, kick, throw and shoot one another; character threatens another with weapons; report of a rape, brief description, 1 paragraph.
Sex/Nudity: Various male characters appear without shirts, some while working, others while bathing and others to unnerve other characters; characters put hands on waist of other characters; non-married character forces kiss on another; report of a rape, brief description, 1 paragraph; married characters embrace, kiss and change clothes together, no sexual implication; married characters snuggle in bed together on multiple occasions, no sex implied; married character expresses desire to go beyond kissing; one implication of married characters engaging in sex.
Mature Subject Matter:
Physical and sexual abuse, death of a parent and spouse, socio-economic classes.
Alcohol / Drug Use:
Character drank himself to death; character is drunk; drinks at a social event contain alcohol.
Reviewed By Susan