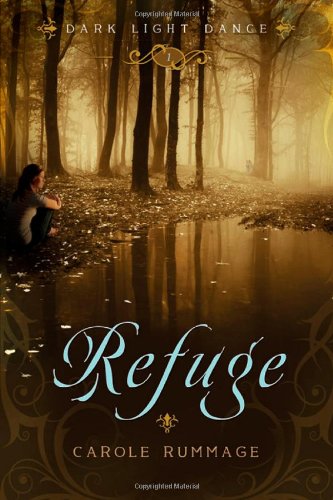 Publisher's Note:
Laney Lowell moved across the country to escape her past, not to fall in love. But when she becomes friends with Gabe, a handsome artist plagued by a mysterious disease, she'll have to decide between facing his dark truth or walking away from him forever. This thrilling romance is full of twists that will keep you guessing to the last page.
This book was sent to Compass Book Ratings for review by Sweetwater Books
Refuge (Dark Light Dance)
by Carole Rummage
Overall Review:
"Red. Black. Those were the colors of the worst day of Lany Lowell's life."
Refuge captivated me from the first few sentences and I wanted to keep reading. This realistic fiction novel had my complete attention. About three fourths of the way through the book something else grabbed my attention. The book changed from a realistic fiction novel to a fantasy/science fiction novel, something I was completely not expecting. If you are looking for a realistic fiction novel, this is not it. On the other hand, if you are looking for just a tiny bit of escape from reality, this might be a good one to pick up.
Carole Rummage is clearly a talented writer and has a way with words that brings the reader directly into the action. Teenage readers who were fans of the Twilight saga will most likely enjoy this book, but it is not really aimed at an adult audience.
Content Analysis:
Profanity/Language: None
Violence/Gore: Three verbal threats; second hand report of murder; second hand report of deaths of family members; second hand report of a fist fight; destruction of a person's house in an act of fantasy violence; non-detailed scene of finding a dead body.
Sex/Nudity: Several kisses; touching/caressing a character's cheek, arms, and hands on three separate occasions.
Mature Subject Matter:
Death of a family member; murder; loss of a child; mental disorders; gambling; illegal drugs.
Alcohol / Drug Use:
A man steals narcotics, a man steals tranquilizers from the pharmacy; a man sells illegal drugs.
Reviewed By Megan