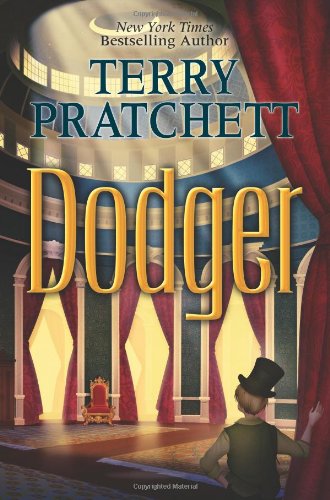 Publisher's Note:
A storm. Rain-lashed city streets. A flash of lightning. A scruffy lad sees a girl leap desperately from a horse-drawn carriage in a vain attempt to escape her captors. Can the lad stand by and let her be caught again? Of course not, because he's . . . Dodger.
Seventeen-year-old Dodger may be a street urchin, but he gleans a living from London's sewers, and he knows a jewel when he sees one. He's not about to let anything happen to the unknown girl—not even if her fate impacts some of the most powerful people in England.
From Dodger's encounter with the mad barber Sweeney Todd to his meetings with the great writer Charles Dickens and the calculating politician Benjamin Disraeli, history and fantasy intertwine in a breathtaking account of adventure and mystery.
Dodger
by Terry Pratchett
Overall Review:
Dodger was an excellent mix of history, literature and adventure. Terry Pratchett creates yet another masterpiece, this time in the form of "historical fantasy" as he dubs it. Dodger, an orphan, is a lovable and daring character that I want to see more of in the future, though Dodger could stand on its own as a novel. Fans of Charles Dickens will love this book and all its references, though one should note that this book is far more enjoyable if you are well versed in English literature and London legends, and thus it is a novel for older, more experienced readers. However, this adds to the fun, keeping the reader searching for the next little Easter egg amid the fantastical plot and action!
Content Analysis:
Profanity/Language: 7 religious exclamations, 21 mild obscenities, and 6 derogatory names.
Violence/Gore Rating: 1 character dies from injuries, with some detail of the injuries; there are several fights and scuffles involving fists, crowbars, brass knuckles, and knives, resulting in minor injury; much of the time characters are threatening or intending to do harm to each other with fists, guns, knives, and razors. There are several instances of reported violence, but not in great detail. There is one instance of destruction of property without casualties. A pregnant character loses their child as a result of violence.
Sex/Nudity Rating: There are several kisses; 5 instances of implied or reported sexual activity or prostitution; several instances of innuendo.
Mature Subject Matter:
Poverty, prostitution, anti-semitism, corruption, death, women's rights in 1800's.
Alcohol / Drug Use:
Characters drink alcohol on several occasions.
Reviewed By Jackson