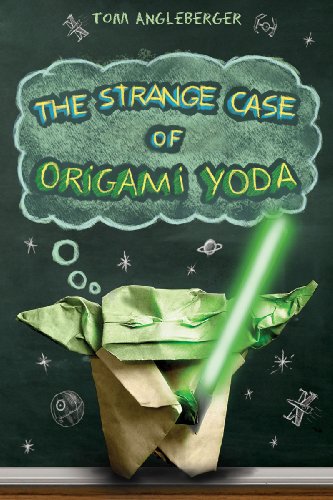 Publisher's Note:
In this funny, uncannily wise portrait of the dynamics of a sixth-grade class and of the greatness that sometimes comes in unlikely packages, Dwight, a loser, talks to his classmates via an origami finger puppet of Yoda. If that weren't strange enough, the puppet is uncannily wise and prescient. Origami Yoda predicts the date of a pop quiz, guesses who stole the classroom Shakespeare bust, and saves a classmate from popularity-crushing embarrassment with some well-timed advice. Dwight's classmate Tommy wonders how Yoda can be so smart when Dwight himself is so clueless. With contributions from his puzzled classmates, he assembles the case file that forms this novel.
The Strange Case of Origami Yoda
by Tom Angleberger
Overall Review:
With perhaps the coolest cover and the coolest title I have encountered in a long time, The Strange Case of Origami Yoda by Tom Angleberger is irresistible. "Pick it up, you must." Laid-out in a case format with the requisite trendy hand-drawn doodles and illustrations, this short novel is the attempt of a certain sixth grader, Tommy, to determine if an origami Yoda really has the force or if it is all a hoax. Meet a quirky (okay, very strange) Dwight, a critical Harvey, and an indecisive Tommy. Angleberger gives us a fresh angle on the middle school scene and gently explores the doubt that we all feel as we try to figure life out. If only we all had an origami Yoda to point us in the right direction!
Content Analysis:
Profanity/Language: None
Violence/Gore: Report of a fight at school.
Sex/Nudity: A character kisses another character.
Mature Subject Matter:
Middle school social dynamics.
Alcohol / Drug Use:
None
Reviewed By Cindy