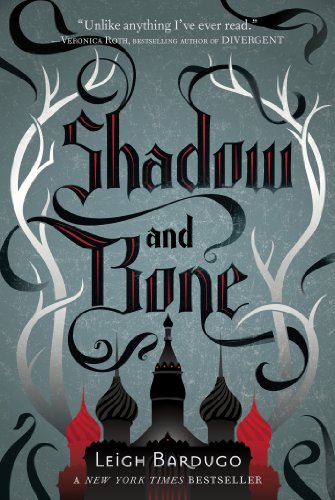 Publisher's Note:
Surrounded by enemies, the once-great nation of Ravka has been torn in two by the Shadow Fold, a swath of near impenetrable darkness crawling with monsters who feast on human flesh. Now its fate may rest on the shoulders of one lonely refugee.
Alina Starkov has never been good at anything. But when her regiment is attacked on the Fold and her best friend is brutally injured, Alina reveals a dormant power that saves his life—a power that could be the key to setting her war-ravaged country free. Wrenched from everything she knows, Alina is whisked away to the royal court to be trained as a member of the Grisha, the magical elite led by the mysterious Darkling.
Yet nothing in this lavish world is what it seems. With darkness looming and an entire kingdom depending on her untamed power, Alina will have to confront the secrets of the Grisha…and the secrets of her heart.
Shadow and Bone
by Leigh Bardugo
Overall Review:
Leigh Bardugo's debut young adult novel, Shadow and Bone, is a fantasy set in a world inspired by the culture and setting of Old Russia. It has a classic fantasy approach and a straightforward narrative with a love story entwined throughout. One of the strongest aspects of the book is the character, The Darkling, who is mysterious, alluring, and powerful with obscure motives. At times, the dialogue of the characters felt quite contemporary, which was incongruent with the setting. While the author's "voice" was indistinct, this did not hamper the flow of the novel. With likeable characters, magic, and romance, young adult readers--particularly girls--will love the book.
Shadow and Bone is the first in a planned trilogy, but it wraps-up nicely. Readers intrigued by the Russian inspired setting might try a couple of other young adult books with Russian roots while they are waiting: The Gathering Storm by Robin Bridges and The Fetch by Laura Whitcomb.
Content Analysis:
Profanity/Language: 1 mild obscenity; 2 derogatory names; 3 anatomical terms.
Violence/Gore: An multiple page battle between characters and fantasy creatures resulting in death, injury, and brief mention of blood; a character is cut with a knife, mention of blood; a brief battle involving magic and shooting of rifles; a brief description/scene (~ 1 paragraph) in which a character is decapitated by magic, with some description; illustrations in a book referenced; sparing in a training exercise; struggling and kicking of characters; verbal threats; report of characters killed; characters struggle with each other; an animal is killed, mention of blood; a magical struggle results in the implied death of many.
Sex/Nudity: Characters jokes about a "seducer"; sarcastic remark about "making babies"; character removes clothes to bathe (non-sexual); characters kiss upon different occasions; one brief scene in which characters passionately kiss with hands moving upwards on thigh; a character ask to come to another characters room later that night; character mentions "tumbling" with girls.
Mature Subject Matter:
Death, orphans, treason.
Alcohol / Drug Use:
Soldiers drink and are drunk. There is reference to someone being drunk. Adults drink occasionally throughout and at social functions.
Reviewed By Cindy