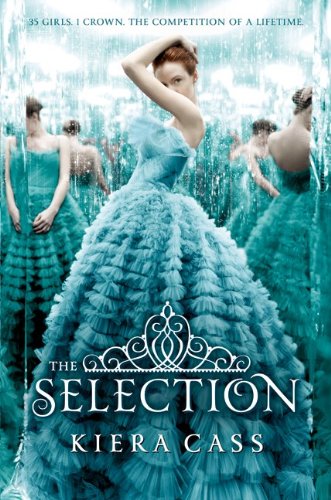 Publisher's Note:
For thirty-five girls, the Selection is the chance of a lifetime. The opportunity to escape the life laid out for them since birth. To be swept up in a world of glittering gowns and priceless jewels. To live in a palace and compete for the heart of gorgeous Prince Maxon.
But for America Singer, being Selected is a nightmare. It means turning her back on her secret love with Aspen, who is a caste below her. Leaving her home to enter a fierce competition for a crown she doesn't want. Living in a palace that is constantly threatened by violent rebel attacks.
Then America meets Prince Maxon. Gradually, she starts to question all the plans she's made for herself—and realizes that the life she's always dreamed of may not compare to a future she never imagined.
The Selection
by Kiera Cass
Overall Review:
The Selection is Kiera Cass' first book in a new young adult dystopian trilogy. In a world where World War III has already taken place, citizens of Illea (once the United States) live in castes. Kind-hearted and beautiful, America Singer is a lowly 5, but that doesn't keep her from being picked to compete in a Bachelor-like competition where the winner gets to marry Prince Maxon and become a princess.
The Selection is reminiscent of several dystopian novels. At times it's predictable and cliche, with a love triangle that seems to be a staple in young adult books these days. Yet the budding love story is sweet and readers may enjoy deciding for themselves which man America should choose. The Selection also contains bits of intrigue and seriousness that will hopefully come to light in the second book (due out Spring 2013). For a quick, easy, and entertaining read, try The Selection.
Content Analysis:
Profanity/Language: 2 religious exclamations, 11 mild obscenities
Violence/Gore: Reports of a skermish where a dozen people are killed; a character recalling a child being whipped; reports of fighting and warfare; a character is kneed in the thigh; property is destroyed in several scenes and non-detailed injuries occur; a traitor is shot and killed
Sex/Nudity: Numerous incidents of kissing; a character changes out of her clothing with the help of her maids; numerous sexual references involving breasts, virginity, bedmates, "sleeping around to get ahead", and an allusion to attempted rape; several incidents of touching and caressing, twice involving areas normally covered by a bathing suit; and implied sexual activity when a girl "managed to get herself pregnant".
Mature Subject Matter:
Socioeconomic status, equality, war
Alcohol / Drug Use:
A character becomes drunk at a party.
Reviewed By Rachel